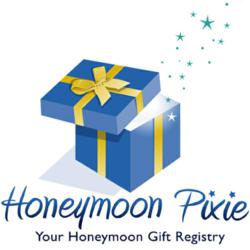 "The joy and love of an engaged couple is best conveyed and shared through video," notes Andrew Marino.
Redmond, WA (PRWEB) April 19, 2013
Honeymoon Pixie has partnered with Sociagram to launch a cloud-based video capture option for honeymoon registries – a first in the industry. Using an elegant one-click webcam recorder, engaged couples can now record a personalized video greeting to share with wedding guests. For tech-savvy couples that prefer to create their own video, the platform also accepts existing video files.
"Engaged couples want their honeymoon gift registry to be as personal as possible," says Andrew Marino, CEO of Honeymoon Pixie. "Now they can integrate personal video, welcoming wedding guests to their honeymoon registry and thanking them for their gifts. This depth of personalization improves the level of emotional connection felt by wedding guests viewing the couple's honeymoon registry."
Successful honeymoon registries have one thing in common, they communicate to their guests the excitement and anticipation the couple feels about their upcoming honeymoon adventure. "The joy and love of an engaged couple is best conveyed and shared through video," notes Marino. "That's why we're so excited about integrating this new technology into HoneymoonPixie.com."
Video messages are a natural progression for honeymoon gift registries given the growing popularity of online video as a means of communication and entertainment. Honeymoon registries have been limited to a brief text introduction written by the couple accompanied by a few engagement photos, until now.
###
About Honeymoon Pixie, LLC
Honeymoon Pixie provides engaged couples with a honeymoon registry where wedding guests can purchase honeymoon activities as wedding gifts. Couples can now have the experiences associated with their dream honeymoon, instead of traditional gifts. Honeymoon Pixie provides free tools and resources for all aspects of honeymoon planning. To learn more visit http://www.HoneymoonPixie.com or call 1-888-74PIXIE (1-888-747-4943). Like us on Facebook.com/HoneymoonPixie and follow us on Twitter.com/HoneymoonPixie
About Sociagram LLC
Founded in 2012, Sociagram is a cloud-based social video platform enabling solutions to automate and personalize how life's most important moments are captured, saved and remembered. Sociagram's flagship product lets consumers record and send custom video gift messages to accompany an online purchase. For more information, visit http://www.sociagram.com and follow @Sociagram on Twitter.