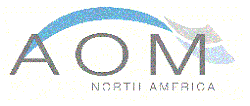 "Across the board, we find statistically significant increases in the failure rate for firms that don't consider transaction costs in their outsourcing decisions," Lyda Bigelow said. "Failure rate increased between 5% and 70%."
Syosset, NY, Cleveland, OH (PRWEB) April 19, 2013
AOMi, the company who offers the innovative approach to operations management, focusing front-line managers and their staff on the achievement of quality and service levels at the optimum cost, today announced their response to the current Canadian debate regarding outsourcing in the financial services sector.
Outsourcing is not unusual, but the number of Canadian jobs going to offshore firms is increasing, creating a large public concern in Canada. With the recent debate, the federal human resources minister Diane Finley has ordered a review of the temporary foreign worker program, which is meant to be used only when there are no available Canadian workers.
Organizations turn to outsourcing generally as a way to reduce the cost of staff, yet from a study led by Lyda Bigelow, strategy professor in the University of Utah's David Eccles School of Business that appeared in the August, 2011 issue of the Journal Organizational Science, her findings was that companies that outsource lose control over critical capabilities and contributes to overall company failures.
Her team found that companies were more likely to fail when they outsourced components critical to their competitive position.
"Across the board, we find statistically significant increases in the failure rate for firms that don't consider transaction costs in their outsourcing decisions," she said. "Failure rate increased between 5% and 70%." "This is a critical strategic choice that firms make," Bigelow said. "Companies need to retain adequate control over specialized components that differentiate their products or have unique interdependencies, or they are more likely to fail."
Their research helps prove the theory of Oliver E. Williamson, professor emeritus of the University of California, Berkeley, who won the 2009 Nobel Prize in economics. Williamson theorized that the more highly specialized a company, the greater the level of risk to the firm, if core capabilities are outsourced. Bigelow studied with Williamson at Berkeley.
Although studies in other industries – computer hardware and software manufacturers, pharmaceutical companies and hospitals, for example – have examined the impact of vertical integration, Bigelow and Argyres' study is one of the few that link outsourcing to business performance.
The correct strategic answer is to utilize operations excellence to deliver results and greatly reduce the need to outsource.
Operational excellence is a beneficial competitive differentiator available to an organization because it is both a source of competitive strength and of cost savings. For service related organizations, such as banks and insurance companies, operational excellence can achieve significant and measurable performance improvements by focusing on the method and levers that improve flexibility, collaboration, quality and customer value.
However, the journey to operational excellence is not simply about doing the same things better; it's about doing things differently. The challenge to management by not having a proven operations management methodology is that day-to-day business factors can outstrip management's abilities to respond; their organizations are not operated and managed with the method, focus and precision needed to deal with the real-time business complexities.
As a result, many senior managers, today, find it difficult to operate their businesses effectively and efficiently. The questions that come to mind during the journey of next steps: Do I have the right operations management method to compete and win, not only in today's economy but within future events?
AOMi provides a guaranteed, out of the box methodology, that gives our clients the visibility, control, tools, and management practices necessary to drive greater operational effectiveness and efficiency. By enabling the behavioral change of front line managers and staff within service operations, AOMi rapidly produces sustained productivity improvements of 10 – 30%. The end result, AOMi enables operational excellence.
AOMi enables operational excellence for organizations. It defines the essential daily, weekly and monthly planning and control processes required to better manage and improve performance.
AOMi methodology includes the following attributes:

Facilitates collaboration within teams and among departments, making it easier to achieve the collective goals of the organization
Develops confident and timely decisionmaking through the regular creation and monitoring of capacity plans
Provides management teams with a single, comparable view of performance across different work types
Allows management teams to compare actual with desired performance
Improves the visibility and use of capacity in the organization
Encourages teams to strive for their best possible performance
Helps identify opportunities for performance improvement ahead of time, so that they can be harnessed directly
Provides a firm foundation for other business improvement initiatives
Immediate Impact – Sustainable Growth
The benefits of AOMi are realized very quickly, with results experienced even within the first six to eight weeks of implementation. Benefits in the first year generally consist of productivity improvements in the region of10%-30%.
While these initial productivity improvements can generate significant savings, the first benefit arising from an AOM implementation is often increased control over the operation. This increased control allows active, confident choices to be made at all levels of management. It also allows spare capacity to be used to drive change, develop skills, and improve service and quality. Ultimately, this leads to a better outcome for the customer.
Organizations typically reach break-even on their investment within 9 months, generally achieving a 12‑month ROI in excess of 200%. And the initial results are just the start—organizations using AOMi consistently achieve sustained year-on-year benefits, which form the basis for a more efficient and effective business overall.
About AOMi
Active Operations Management International (AOMi) provides a guaranteed, out of the box methodology, that gives our clients the visibility, control, tools, and management practices necessary to drive greater operational effectiveness and efficiency. By enabling the behavioral change of front line managers and staff within service operations, Active Operations Management (AOM) rapidly produces sustained productivity improvements of 10 to 30%. The end result, AOMi enables operational excellence. To learn more, visit our website at http://www.activeops.us.com
SOURCE University of Utah's David Eccles School of Business