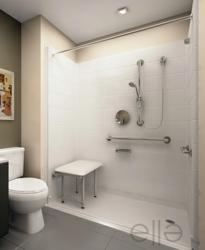 Walk in bathtubs shouldn't take forever to fill!
New York, NY (PRWEB) April 18, 2013
National provider of handicap shower stall systems and hydrotherapy walk in tubs, Aging Safely announces high flow roman faucets that have an increased water flow rate. These special faucets allow for more water to flow through the opening of the spout, which can potentially decrease the amount of time a bather must wait for the walk in bathtub to fill with water.
According to the company, the high flow faucets are universal and can be installed on most walk in bathtubs. Customers also can have Aging Safely pre-install the faucets for orders without installation. There is typically no need for handicap shower stalls to have high flow faucets; however shoppers can request thermal mixing valves which can help regulate water temperature.
Baby boomers everywhere are exploring unique options to assist in their aging in place efforts. There are numerous technologies available catered to the aging population and people with restrictive mobility. The bathroom is typically a high priority area of the home to modify when looking at different ways to increase overall safety and accessibility.
This unique senior bathtubs company specializes in bathroom products specially designed for seniors and people with disabilities. They supply a wide range of quality walk in bathtubs, handicap shower stalls, transfer bathtubs, bathtub lifts and safety grab bars. These unique products can be installed in most residential locations and even in some commercial applications.
The company provides several hydrotherapy bathtubs as well that come standard with invigorating whirlpool style water jets and powerful air jets; which can provide bathers with massage type sensations. According to Aging Safely, customers also have the option to order dual jetting, air jetting only or water jetting only.
Step in bathtubs have many potential advantages. However one of the downsides is that bathers must wait for the water to fill, typically undressed in the tub with the door being shut. For some people this may be uncomfortable and be a deterrent from purchasing a walk in tub, although there are certain things that can be done to minimize the downside such as the high flow roman faucets.
Additionally, several of Aging Safely's walk in bathtubs come with a unique dual drain technology which allows for one of the fastest draining senior bathtubs on the market today. It is equally important to think about the drain time, as it is the fill time. These are invaluable variables customers should consider before purchasing a walk in tub.
There are numerous options to consider when purchasing walk in bathtubs or handicap shower stalls. Customers are invited to contact an Aging Safely representative to receive a no obligation consultation regarding a hydrotherapy bath, senior bathtub, wheelchair accessible shower or safety grab bars.
Contact Information:
Zach Wennstedt
1-888-779-BATH(2284)
info(at)Agingsafelybaths(dot)com