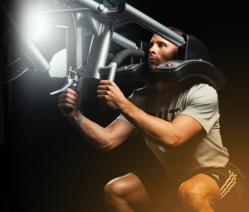 The nomination was exciting, the award motivates us to move on our chosen path. There are a number of different machines that target the individual elements, but no device is similar to the C.O.D. in its ability to do it all. - Andre Agassi
Las Vegas, NV (PRWEB) April 22, 2013
During the European launch of BILT by Agassi & Reyes, the Change of Direction (C.O.D.) Machine, personally designed and developed by Andre Agassi and Gil Reyes (Andre's longtime trainer), received the highly regarded 2013 FIBO Innovation Award for its design and safety.
In selecting the most innovative training device of the year, the FIBO Award Jury composed of industry experts considered safety under high stress as an important criterion for the assessment in the Training Equipment category. The Jury felt the machine is designed to allow ergonomically correct movements during a safe and intense workout whether the user is squatting or standing. There is a natural posture and the secure, precise lines of the exercises are always guaranteed so that the back and neck muscles are spared. In addition, the Jury found that the IntelliLift™ resistance system increased the impact of the C.O.D. even further by exercising deep‐lying muscles not often utilized during training.
"The nomination was exciting, the award motivates us to move on our chosen path," commented Andre. "There are a number of different machines that target the individual elements, but no device is similar to the C.O.D. in its ability to do it all."
Prior to receiving the award, Andre demonstrated the various machines designed and developed for the BILT by the Agassi and Reyes line, including the C.O.D. The C.O.D.remains Andre's favorite machine because it combines the key elements of explosive movement, resistance, and safety. All of these elements put together benefit a broad range of sport related activities and a diverse group of athletes.
ABOUT BILT
BILT by Agassi & Reyes changes the game of fitness with a champion‐building legacy. BILT develops and manufacturers strength‐training machines that powered world‐class athlete Andre Agassi to eight Grand Slam titles, co‐engineered by elite fitness trainer Gil Reyes. Located in Las Vegas, BILT believes it is the spirit of the athlete that defines a champion, not the measure of the victory. Join the game‐changing fitness conversation with BILT on Facebook and Twitter (@AgassiAndReyes): #NeverQuit.
ABOUT THE C.O.D.
The ergo‐efficiency of the moving parts of the C.O.D. allows for a safe squat movement as well as an intense, yet safe, lateral exercise series, including side shuffles, lunges and single leg squats. The construction of the machine provides for a safe direct line of movement which protects the spine and back muscles and conforms to the natural angles of the body. The device also incorporates the IntelliLift™ resistance system. Thanks to its spring‐enhanced weight stack the training effect is intensified. The resistance rises continuously during the exercise,reaching its peak precisely when the muscle reaches its optimum flex point and decreasing as the muscle relaxes. At the same time, deep muscles are also exercised – a unique effect not offered by other weightlifting machines.