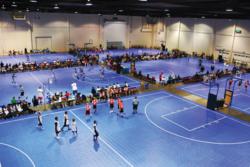 "These teams can play upwards of a dozen times during a tournament, but with the incredible support of ShockTower® the players are never fatigued." – Matt Williams, CEO, AAU Jam On It
Salt Lake City, UT (PRWEB) April 18, 2013
SnapSports® Athletic Surfaces will provide championship courts to AAU Jam On It's "Got Game Challenge" in Rancho Cordova, California as well as the "2013 Shoot The Rock" Tournament in Las Vegas, Nevada both taking place April 20-21, 2013. Each event will feature SnapSports® multi-patented indoor championship courts, the official flooring of AAU Jam On It Tournaments.
Founded in 1991, the AAU Jam On It Organization strives to build positive self worth and promote a sense of accomplishment by engaging children in fun, competitive play, and foster the belief that trying one's best is as important in sports as it is in life. In addition, they operate on the belief that all children, regardless of race, gender, or economic background, should have the opportunity to compete in a well-organized athletic program. To accommodate young athletes competitive play at their tournaments, Jam On It, uses SnapSports® multi-patented athletic surfacing, the preferred surfacing of athletes, coaches and facility directors worldwide.
"Over the years, we've used nearly every modular surface in the industry, and I can say unequivocally that SnapSports® products are the best in the industry. Our athletes also love playing on SnapSports surfacing. These teams can play upwards of a dozen times during a tournament, but with the incredible support of ShockTower® the players are never fatigued." – Matt Williams, CEO, AAU Jam On It
SnapSports® Athletic Surfacing, is the industry leader in modular sports flooring and the exclusive provider of ShockTower® Technology. The multi-patented ShockTower® Technology provides superior shock absorption through a patented absorbent sub-structure, which eases the impact on players joints, allowing them to play better, faster and longer. SnapSports® engineers their multi-patented products with safety and performance in mind, providing a surface that is able to withstand competition at the highest levels.
Based in Salt Lake City, Utah - The team at SnapSports® have been engineering, manufacturing, and providing the world's leading outdoor multi-courts, basketball courts and indoor sport surfaces for nearly four decades! As the pioneers of the modular sports surfacing industry you play on today, the SnapSports team continues to develop the most advanced, multi-patented, modular sport surfacing and outdoor game courts for top athletes and families all over the world. With unparalleled experience and a high performance product line, SnapSports is the industry's undisputed champion. SnapSports manufactures in their 150,000+ square foot ISO 9001:2008 Quality Certified operations facility 24x7 and is supported by an authorized global network.
SnapSports® is the official sport surface provider for the United States Futsal Federation (USFF), AAU 'Jam on It' Basketball, Volleyball Festival, Special Olympics, AAU 'All Under One Roof' Basketball, Veteran Wheelchair Games, Colorado Crossroads, National Collegiate Roller Hockey Championships, AAU 'Big Mountain Jam', World Police & Fire Games and USA Team Handball. In addition, SnapSports is an approved partner of the IHF and a FIBA Technical Partner, the world's governing body for the sport of basketball.