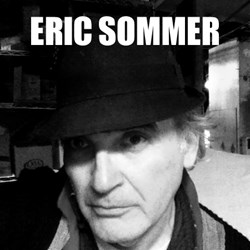 The best show I've seen in years - what a player and what a sound...
Steve Marks
Stanford Union Leader
St. Joseph, MO (PRWEB) April 23, 2013
Eric Sommer has been on a mission for the past few years - making the small room circuit count.
While most music acts these days seek the biggest venues and the highest ticket prices they can get - regardless of their merit - Eric Sommer is seeking "small" and "intimate." With good reason. As he says, "Small rooms are intimate - you can reach your audience directly and you can begin to make a difference and make an impact immediately."
For Eric Sommer that counts for a lot. A whole lot. For the past few years Mr. Sommer has focused on playing rooms of 350 seats or less, and 75-120 seats is the most ideal and Cafe Acoustic in St. Joseph fits nicely into that format.
"It's easy to confuse volume with value," says Sommer. "More isn't always better - in most cases it's just more..." For Eric Sommer, the size of the venue - Cafe Acoustic in St. Joseph is small - effects the sound and the listening experience. For my style the sound is always more manageable in a smaller venue."
Eric Sommer should know. Currently doing around 280 shows a year, Eric's array of guitars and his arrangement of small vintage amps onstage create a unique sound and a unique listening experience.
Eric started his musical career in the Boston area and has been a regular player on many national tours and showcases. His influences are as diverse as Townes Van Zandt, Steve Earle, Steve Howe and The Ramones. Mr. Sommer's current project with power trio "The Solar Flares" shake up Chet Atkins and David Bromberg influences with those of ZZ Top and Elvis Costello - a remarkable mix.
Following the St. Joseph "Cafe Acoustic" show, Eric heads to Little Rock, Arkansas for a Saturday night spot at Midtown Billiards, one of the most popular showcase venues in Little Rock. Eric has been a regular performer on that stage - and others - for the past few years.
According to Sommer "Little Rock is a gem - when SXSW is going, all the big acts stop and hook up shows here and that has made for a fluid, on-going scene that now carries on most of the rest of the year."
With open tunings, slide guitar, lap-slap tone guitar and a remarkably aggressive fingering style approach, watching Eric Sommer will make you jump out of your seat and holler for joy! There are very few players who have maintained this authentic American style of guitar and Eric Sommer is one of the very best.
Eric Sommer is currently touring in support of his new record Rainy Day Karma which he recorded in Pittsburgh, PA at 20 Cedar Studios with Matt Vaughan (percussion) and David Katilius on bass guitars. The vocals were mastered in Nashville by Jeff Silverman at Palette Productions. Three songs off that disc - "Red Queen", "Sunny Afghanistan" and "Cover My Soul in Gasoline" are currently in airplay rotation.
________________________________________________________________
For Music Samples please visit CDBaby or Eric Sommer online for additional schedules or contact him at eric(at)ericsommer(dot)com or call 202-255-1995. Additionally, you can find Eric Sommer on Facebook, too.
Eric Sommer is represented by Clyde is Thinking, and PR programs are managed thru MTG/NY; For more information, promo/appearance requests or to set up an interview, please contact Tom Monihan 202-255-1995.