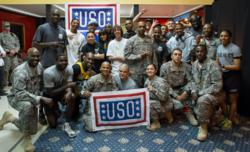 This has been an unforgettable experience so far. I didn't really know what to expect and have been nothing but impressed by our troops and their dedication," said Cannon. "I'm so glad to be out here shaking their hands and...
Arlington, VA (PRWEB) April 18, 2013
Twitter Pitch: @NcredibleLife & @Power106LA thank troops in Middle East and Germnay on @the_USO tour
Hundreds of military basketball fans were courtside to cheer on their brothers and sisters in arms as they challenged a team of celebrities to a game of hoops, as part of a recent USO/Armed Forces Entertainment tour to the Middle East and Germany. Led by multi-faceted entertainer Nick Cannon and emceed by Power 106's Big Boy, the celebrity team included Power 106 personality DJ E-man, platinum recording artist Baby Bash, actors Arlen Escarpeta and NaNa, professional athlete and dunk master AirDogg, members of the R&B band 4Count and hip-hop group PWD as well as Power 106 radio personality DJ Thirty Two.
Troops were also treated to star-studded halftime performances, which included a heartfelt rendition of the "Star Spangled Banner" by R&B artist Kristina DeBarge, and high-energy half-court performances by up-and-coming boy band 4Count and rising hip-hop group PWD. Cannon and Baby Bash took a timeout from the games to bring their musical talents to the halftime extravaganza as well.
Details:

So far, the group has visited 600 troops.
As part of their USO tour experience the team of celebrity volunteers is scheduled to host three games and halftime performances as well as participate in five meet and greet sessions, including a visit to the Landstuhl Regional Medical Center in Germany.
This is the third tour for USO veterans Big Boy and DJ-Eman and the second for Baby Bash. This trip is the first USO experience for Cannon, Escarpeta, NaNa, AirDogg, 4Count, PWD and DJ Thirty Two.
In 2008, Big Boy, DJ E-Man and Baby Bash set out on their first USO tour to Kuwait and Iraq. The trio lifted the sprits of more than 5,000 troops.
The Power 106 duo returned to Kuwait and Iraq in 2010 with rap artist Paul Wall – in total the pair have lifted the spirits of more than 6,000 deployed servicemen and women.
Quotes:
Attributed to Nick Cannon:
"This has been an unforgettable experience so far. I didn't really know what to expect and have been nothing put impressed by our troops and their dedication. I'm so glad to be out here shaking their hands and participating in some friendly completion, my first USO tour has really exceed all my expectations."
Attributed to Baby Bash:
"What I'm enjoying most about this USO tour is the feedback we're getting from the troops. Everyone is having such a good time and that's all that really matters. Normally I'm a pretty competitive player but I'm going into these games knowing that our troops are the real winners, for everything that they do off the court. These games are just a way for us to show our respect and support, and to have some fun with our troops."
Attributed to Big Boy:
"Third time is definitely a charm, E-man and I couldn't be prouder to be out here spending time with the troops and playing our part in these games. I wish everyone could see how intense these games are, our troops are fierce competitors but even more importantly they are having a good time and that's what USO tours are all about. Bringing some good times and memories to our troops."
NOTE: Entertainment tours are one of the many ways the USO helps to lift the spirits of our troops and military families. In 2012, the USO deployed 91 celebrity entertainers on 87 tours to 24 countries and 13 states, entertaining more than 324,000 troops and military families. Fifteen of these tours were to a combat zone. To find out more about the USO and how you can help, visit us online at http://www.uso.org
MULTIMEDIA:
USO Photos: http://bit.ly/XHC5GA
# # #
About the USO
The USO lifts the spirits of America's troops and their families millions of times each year at hundreds of places worldwide. We provide a touch of home through centers at airports and military bases in the U.S. and abroad, top quality entertainment and innovative programs and services. We also provide critical support to those who need us most, including forward-deployed troops, military families, wounded warriors and families of the fallen. The USO is a private, non-profit organization, not a government agency. Our programs and services are made possible by the American people, support of our corporate partners and the dedication of our volunteers and staff.
In addition to individual donors and corporate sponsors, the USO is supported by President's Circle Partners: American Airlines, AT&T, Clear Channel, The Coca-Cola Company, jcpenney, Jeep, Kangaroo Express, Kroger, Lowe's, Northrop Grumman Corporation, Procter & Gamble, and TriWest Healthcare Alliance and Worldwide Strategic Partners: BAE Systems, The Boeing Company, Lockheed Martin, Microsoft Corporation and TKS Telepost Kabel-Service Kaiserslautern GmbH & Co. KG. We are also supported through the United Way and Combined Federal Campaign (CFC-11381). To join us in this patriotic mission, and to learn more about the USO, please visit uso.org.