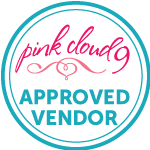 77% of couples will not hire an expensive full-service wedding planner which leaves them vulnerable to planning mistakes. With PC9 you keep control of your vision and finances without worrying about how it all comes together while you dance the night away
Los Angeles, California (PRWEB) April 18, 2013
Award-winning online wedding planner collective Pink Cloud 9 (PC9) announced today the launch of their Approved Vendors program. The program makes it easier for do-it-yourself couples to find and hire trustworthy wedding vendors through the Pink Cloud 9 website. Popular vendors include wedding photographers, wedding venues, and wedding DJs.
Pink Cloud 9 Approved Vendors are carefully selected based on our high standards of excellence in performance, timely delivery, customer satisfaction, fair and transparent pricing, commitment to quality service, and professionalism. Approved Vendors are awarded a Pink Cloud 9 badge to place on their website.
"Vendor recommendation is the #1 request we get from our customers at Pink Cloud 9," states Pink Cloud 9 Founder and CEO Sarah Shewey. "Our coordinators have first-hand experience working side-by-side with vendors to bring a couple's plans to life. This insider knowledge, paired with vendor reviews from our couples, makes the Pink Cloud 9 Approved Vendor Badge a powerful tool for hiring a vendor with confidence."
Registered couples can easily browse and choose from a short list of Approved Vendors for free by visiting any coordinator's "My Vendors" profile tab. A Vendor Concierge comes standard with every Pink Cloud 9 coordination package booked, to personally assist customers with the research and booking of vendors. Pink Cloud 9 will also release an exclusive package every week on the PC9 Blog.
"77% of couples getting married today will not hire an expensive full-service planner, which leaves them vulnerable to first-time planning mistakes that could be avoided with a little expert help. We believe that whatever your wedding budget, you deserve the best. Our 'Big Day Coordination' system guarantees you can keep control of your vision and finances without worrying about how it will all come together while you are dancing the night away," adds Shewey.
Along with access to Approved Vendors, each Pink Cloud 9 "Big Day Coordination" package also comes with free planning templates, wedding timeline consultation, a venue design meeting, and one coordination assistant for every 40 wedding guests.
Pink Cloud 9 coordinators make sure DIY weddings go without a hitch under the slogan, "DIY Weddings Done Right." Pink Cloud 9 was named 2013 "Best Wedding Planner" by the industry's #1 publication, The Knot. Pink Cloud 9 currently services weddings in Los Angeles, Orange County, Santa Barbara, San Francisco, Palm Springs, Napa / Sonoma, Inland Empire and San Diego.
For more information on Pink Cloud 9, visit http://www.pinkcloud9.com
To apply to be an Approved Vendor, visit http://www.pinkcloud9.com/vendors