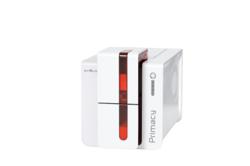 (PRWEB) April 30, 2013
The RSBY (Rashtriya Swasthya Bima Yojana) is a unique scheme launched by the Government of India five years ago, in partnership with hospitals and insurance companies, and with the goal to provide healthcare to citizens. Initially envisaged as a scheme for people below the poverty line, it has been extended to include construction workers, domestic workers, street vendors, railway porters, and more. It is expected that the scheme will ultimately cover more than 100 million families over the coming years.
This program leverages a smart card that is personalized to each holder. As of today, more than 34 million of such cards were delivered throughout India, as the program continuously expands to new states of the Indian Union.
This ambitious and successful project leverages the reliability of Evolis ID card printers and the expertise of Rajpurohit Cardtec, Evolis' distributor in India. More than 5,000 Evolis printers are today deployed and supported in multiple Indian cities and villages to ease the enrolment of beneficiaries and deliver personal health cards at their doorsteps. As Evolis is renewing and enhancing its range of printers, the Primacy printer will be introduced to print and encode the RSBY health cards.
Easy-to-use, Primacy supports single or dual-sided printing, and just like other printers from Evolis, offers superior quality. When loaded with the Evolis cutting-edge encoding technologies, Primacy turns into the ideal solution to issue cards: transportation passes, payment cards, identification badges.