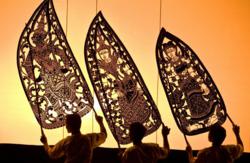 We're absolutely delighted to be involved with Season of Cambodia and this performance in particular
New York (PRWEB) April 20, 2013
Remote Lands Inc., the world's leading ultra-luxe Asia travel designer, has teamed up with Amanresorts and the Phnom Penh & US-based Cambodia Living Arts to support Season of Cambodia, a festival celebrating Cambodian arts & performance taking place in New York City throughout April & May 2013.
Season of Cambodia features over 125 Cambodian artists and performers whose work will be shown or performed in various New York galleries, theatres and public spaces, and is designed to celebrate Cambodia's artistic renaissance, just one generation after the dark Khmer Rouge era of 1975-9, when an estimated 90% of Cambodia's artistic community was wiped out.
On 25th April at the Winter Garden Atrium, Remote Lands, in conjunction with Amanresorts, will be sponsoring a performance of the Cambodian epic tale Sor Neakabas (The Arrowhead Dragon) by the Shadow Puppet Troupe of Wat Bo. Sbeik Thom shadow puppetry is an ancient Cambodian theatrical tradition blending puppetry, dance and storytelling. All but destroyed by the Khmer Rouge, it is now making a comeback and this performance will be a New York premiere.
"We're absolutely delighted to be involved with Season of Cambodia and this performance in particular" says Catherine Heald, Remote Lands' co-founder and CEO. "Cambodia is one of our most popular destinations and our clients love experiencing the country's rich artistic and cultural heritage, so we're happy to give something back by bringing Cambodian performers to a new audience in our hometown of New York."
Remote Lands and Amanresorts will be hosting a cocktail and canapé reception at the Conrad Hotel prior to the performance. For more information, please contact info(at)remotelands(dot)com. For more information about Season of Cambodia, visit http://www.seasonofcambodia.org.
About Remote Lands, Inc.
Remote Lands, Inc. creates highly personalized, ultra-luxe holidays in Asia, optionally by private jet or yacht. Based in New York and Bangkok, they specialize in extraordinary experiences that are difficult to arrange and require privileged access to important people and exclusive events, drawing upon their relationships with remarkable people around Asia. They distinguish themselves with their unparalleled service, creative itineraries and extreme attention to detail.
Remote Lands has been featured in The New York Times, The Wall Street Journal, Departures, Travel + Leisure, Condé Nast Traveler, Town & Country, the BBC, Fox Business News, Financial Times, National Geographic Traveler, W, Newsweek, Forbes, BusinessWeek and more.