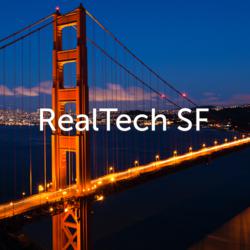 The demand to attend the event has been terrific.
San Francisco, CA (PRWEB) April 19, 2013
A new startup called Reesio that offers a next generation, cloud-based transaction management system for real estate brokers/agents, has been experiencing a large demand for tickets for its upcoming conference. The event is called RealTech SF 2013 and it will focus on the latest technology trends within the real estate industry. The conference is now expected to draw about 400 real estate professionals and will be held at The Fairmont Hotel in San Francisco on April 30, 2013.
Because of the high demand for tickets, the organizer of the event, Mark Thomas, was able to secure two additional Exhibitor spots. According to Thomas, "The demand to attend the event has been terrific and The Fairmont was gracious enough to give us room for two additional Exhibitor tables, so those are on sale now." The Exhibitor spots are ideal for technology companies wishing to get their product in front of hundreds of real estate professionals. Thomas expects that Exhibitors will be able to close a lot of deals with potential customers because attendees are looking for new technologies to help their real estate businesses. Anyone interested in Exhibiting can do so by choosing the "Gold Sponsor/Exhibitor" option when registering for the event.
The event also features an all-star lineup of speakers, including:

Paul Levine, Chief Operating Officer of Trulia
Kathleen Philips, General Counsel of Zillow
Steve Pacinelli, VP of Real Estate Events from Realtor.com
Several other prominent speakers will be presenting as well. The four current Gold Sponsors/Exhibitors, who will have full-length exhibitor tables at the conference, include:
There will also be a Startup Alley showcasing 23 of the hottest new real estate technology startups and their cool new products for everyone to see. The Startup Alley companies include:
Happy Inspector – iPad app for property inspections
Wigwamm – Auctions for rental property
Storefront – Marketplace for short-term retail space (pop-up stores, etc.)
RealtyShares – Online crowdfunding for real estate investments
HomeZada – Allows homeowners to track maintenance, remodels, and other home data
Zumper – Apartment rental searches from verified brokers and renters
Producers Forum – Handles off-market/off-MLS transactions
iManageRent – Online property management for landlords, tenants, and building providers
Benutech – Online transaction management for real estate agents
EZ Coordinator – Online transaction management for real estate agents
Cozy – Online property management with a focus on payments and screening for landlords
Onvedeo – Video hosting and marketing platform for real estate agents
Keyzio – iPhone app to match home sellers/buyers that might not be actively looking
Comvibe – Online property management for companies with a focus on maintenance
MagicPlan – iOS app for capturing floor plans using the sensors in a tablet/phone
GoRefi – End-to-end, cloud-based app for refinancing a home online without an agent
HomeSmart Advantage Realty – Online brokerage with a deep focus on technology
Proxio – Global marketing product that helps agents market their listings worldwide
ListedBy.com -- Online real estate marketplace with live bidding auctions
DoormanSF – Online property management for landlords in San Francisco
Pendo Rent – Online property management with dashboard and alerts
Local-Insights.com – SaaS mapping technology that delivers real time market intelligence
Kwelia -- Sophisticated statistical models to determine market values for specific units
There will also be lots of networking opportunities and free wine at the end of the event.
More details about the conference, including ticket info, can be found at: https://www.reesio.com/realtech