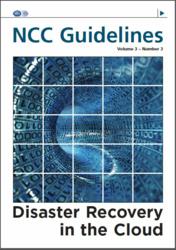 Disaster recovery in the cloud isn't one thing, but many.
(PRWEB UK) 18 April 2013
As computing moves away from the onsite server room model to cloud services and cloud service providers (CSPs), so disaster recovery becomes much more disparate and often complex.
Written by Oscar Arean, Technical Operations Manager, and Mark Thomas, Solutions Architect, from Databarracks, the paper has been produced to provide simple guidance on how businesses should approach disaster recovery when using cloud services.
The guideline examines the disaster recovery options available for the various different types of cloud deployments a modern business is likely to use.
"Disaster recovery in the cloud isn't one thing, but many. In the past, your entire infrastructure was in one place, so you needed to prepare a plan for the loss of those systems or that site. Today, businesses will often be using several different cloud services. This reduces your chance of losing everything at once, but it does add an extra layer of complexity into your DR plans" said Oscar Arean
Keith Vooght, Director for the NCC commented: "DR in the cloud, is an emerging area of concern for IT professionals and Databarracks' authors, Oscar Arean and Mark Thomas, have done an excellent job of providing authoritative and succinct advice to the NCC membership, who are all senior IT leaders."
Since 1966, The National Computing Centre (NCC) has been helping organisations to manage IT processes and systems development, and equip people with the skills to ensure business effectiveness. The Guidelines are distributed to approximately 10,000 NCC members, who are senior IT professionals in UK organisations.
Peter Groucutt, Managing Director, for Databarracks concluded: "We have been providing cloud based backup and disaster recovery services for ten years. This is what most people will think about when you mention DR in the cloud – an onsite server room, backing up to a cloud service provider. As businesses now move production systems out of the server room, the NCC recognise that a new issue is emerging. There is a lot of uncertainty about what a company can do to protect its cloud based CRM or IaaS for instance, and hopefully this guide can really help."
A link to the Guideline can be found here.