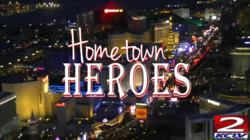 Las Vegas, Nevada (PRWEB) April 27, 2013
In close-up interviews with the role models we get to know:

The heroe's life story
How it all originated
Where they get their drive and inspiration
Why they do what they do
What we can all learn from them
What is a God wink? See the first episode and find out. In episode one, meet Fred Shultz, who is the man behind saving 10,000 children in Nevada. In the late 90's, working from the trunk of his car, Fred started Positively Kids to help medically fragile children, building his organization up to what would become a support center that up to current has helped more than 10,000 medically weak children and their families to better health care in the state of Nevada.
HOMETOWN HEROES presents the unique socially conscious role models who has given thousands of both people and animals in Nevada a second chance at life.
The talk show which premiers on Monday, April 29, 2013 at 10:15 AM is hosted by international behavior expert and futurist Christian Schoyen. The production company is Rover Films.
For future episodes of HOMETOWN HEROES please check KCLV'S program guide.