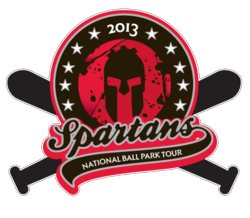 Spartan Race's mission is to rip people off their couches and do what we as human beings were made to do: run, jump, sweat and climb.
Boston, MA (PRWEB) April 18, 2013
What sports enthusiast hasn't dreamt of standing on the field where their favorite team plays, gazing into the stands filled with cheering fans and hitting the winning home run or scoring the game-winning touchdown? Reebok Spartan Race promises that same adrenalin rush to competitors at the Pennsylvania Spartan Sprint at Citizens Bank Park happening Saturday, Aug. 31, 2013 in Philadelphia.
"Based on the huge success of our Fenway Park event in Boston last November, we recognized the appeal of the more intimate stadium setting," said Spartan Race founder Joe De Sena. "Fans will get to experience Citizens Bank Park in a rare, up-close-and-personal way as the course winds throughout the entire stadium – including stands and concourses – and ends on the field."
The Reebok Spartan 2013 calendar will include several Sprint Races at some of the nation's favorite professional sports stadiums. Other confirmed sites include Citi Field, in Flushing, N.Y., April 13, Miller Park, in Milwaukee, WI., September 7, and a return to Fenway Park, in Boston, MA., Saturday, Nov. 16.
"Fans, stay tuned for announcements about future events coming to a stadium near you," De Sena noted, adding that locations are being selected that already have a strong Reebok Spartan following. "We're picking places that are passionate about their sports," he continued, "plus, we want to give our most loyal fans multiple opportunities within a calendar year to compete in a Spartan Race."
Adult heats will start at 8 a.m. continuing in roughly one-minute, 10-person waves throughout the day, with individual start times assigned at the event. As with all Spartan events, points will be awarded and elite performers can win entry to a larger, even tougher Super Spartan event. The three-mile course is a head-to-head, time trial, speed-style event, with the unique twist of incorporating numerous, challenging obstacles for which Spartan Race is famous.
Each racer will receive a commemorative medal, t-shirt and photographs along with access to Citizens Bank Park and instant fame on its massive 97-foot-wide by 76-foot-high, HD-15 scoreboard.
Children also can join in the challenge with the Jr. Spartan Adventure Race. Spectator access to the event will be free with a limited number of luxury viewing suites available.
"Spartan Race's mission is to rip people off their couches and do what we as human beings were made to do: run, jump, sweat and climb," De Sena asserted. "Our stadium races will offer a unique setting to do that."
For more information about Spartan Sprint at Citizens Bank Park, including entry fees and deadlines, spectator tickets, parking and children's activities, or to register, visit Spartans website.
Reebok International Ltd., headquartered in Canton, MA, USA, is a leading worldwide designer, marketer and distributor of sports, fitness and casual footwear, apparel and equipment. An American-inspired global brand, Reebok is a pioneer in the sporting goods industry with a rich and storied heritage in running, training and fitness. A subsidiary of the adidas Group, Reebok operates under the multiple divisions of the Reebok brand, Reebok-CCM Hockey and the Sports Licensed Division. Reebok is the exclusive outfitter of CrossFit and the Reebok CrossFit Games and main event partner and official apparel and footwear supplier for the 2013 Red Bull X-Alps.
Reebok Spartan Race, voted Outside Magazine's Best Obstacle Race in 2012, is the world's leading obstacle racing series and the first of its kind to have global rankings. With 350,000 participants in 2012 and 60 events planned for 2013, Reebok Spartan Race is making this one of the fastest-growing sports in the world. Reebok Spartan Race is a timed event series featuring races at four escalating distances in locations worldwide that culminate in a World Championship Finale with cash and prizes for the champions – with a half-million dollars in cash and prizes awarded in 2012 alone. While featuring competitive elite heats, Reebok Spartan Races are for athletes of all levels and abilities and are geared toward ripping people off their couches and into the outdoors.
You'll Know at the Finish Line – A Spartan Guide to the Sport of Obstacle Racing, a new e-book from Spartan Race co-founders Joe De Sena and Andy Weinberg that inspires readers to find and unleash their inner warrior, is available for free on the company's website.