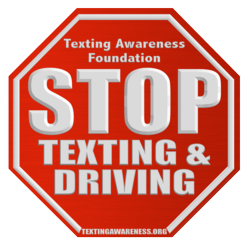 Any distraction while driving that takes your eyes off the road is deadly...
Bohemia, NY (PRWEB) April 19, 2013
On April 19, 2013, Texting Awareness Foundation, a non-profit organization committed to spreading awareness of the dangers of texting and driving, releases a statement following a Mashable article by Emily Price regarding a court ruling in California that makes checking the maps from the GPS on your phone while driving against the law.
According to the Mashable article, a man in California found himself in court for using his phone while he was driving. The man argued that he was using his phone to check maps, but the court ruled that the current law against texting and driving applies to other distractions a smartphone can cause while driving as well.
The ruling found that "it would be impossible for an officer to determine what kind of activity a person is conducting on their phone and that all types of interactions, be they texting or interacting with a map, can be equally distracting," reports the article.
The article states that while the law does stretch to include all hands-on distracted activity that a smartphone lends itself to, a person can still use their phone as long as they are using a hands-free device.
Rocco Panetta, spokesperson for Texting Awareness Foundation, issues a statement in response to the California court ruling. "At Texting Awareness, our message has always been simple: don't text and drive. This ruling brings up an important point about smartphones. Any distraction while driving that takes your eyes off the road is deadly. The real concern should always be focused on the road. People need to realize how distracting a smartphone can be, and need to put them away when they get behind the wheel."
The Texting Awareness Foundation is a federally recognized 501(c)(3) not-for-profit organization that was created to remind and educate people about the dangers of texting and driving. Our goal is to keep the public informed, on a daily basis, of the possible legal and physical (body and property) dangers of texting and driving. Our "Remind You" campaign is designed to reduce accidents simply by raising awareness.
#####