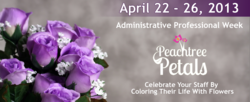 Atlanta, GA (PRWEB) April 19, 2013
Peachtree Petals, a recognized leading Atlanta florist specializing in premium floral arrangements and wedding floral decor services, announces Administrative Professional Week Deals. The marketing initiative is in efforts to expand its customer base, improve online exposure, and increase sales growth. Peachtree Petals strives to be the best choice for floral services and floral decor throughout the US.
Administrative Professional Week, also called "Admin Week", is celebrated to honor and express appreciation for all the hard work of employees. The Peachtree Petals Administration Professional Week Deals are being promoted on the home page on their website via an automated scrolling ad to market their recommended floral bouquets. The florist has also created a category link within the Flower tab to direct customers to the Admin Week page as well. Admin Week is from April 22nd to April 26th, which begins next Monday.
From floral arrangements to executive gift baskets, Peachtree Petals has an assortment of gifts just right for Admin Week. If shoppers do not find exactly what they are looking for, the florist offers their Peachtree Petals Design Bouquet, which is a custom design the floral arrangement according to their dollar value. Customers are able to inform the florist of any specific requested flowers they desire within the arrangement and color schemes for the customized bouquet. For any special requests for Admin Week, clients can contact customer care and speak directly to a florist to discuss their floral service needs.
The Peachtree Petals website is user friendly and easy to navigate for all ages. The floral shop maintains a business strategy of simplicity of their wide range of floral services, including same-day delivery of all their floral arrangements within the Atlanta and Metro-Atlanta area.
Peachtree Petals is a recognized leader of superior floral arrangements and honored Master Florist nationwide. Their floral designers have over 50 years of experience and create stunning floral arrangements. Peachtree Petals has its very own staffed Atlanta floral wedding consultant to meet their clients' needs. Based in Atlanta, Georgia, Peachtree Petals services a growing list of clients, including company floral subscriptions and weekly floral services.