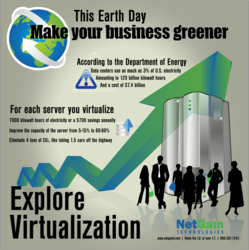 Data centers use as much as 3% of American electricity... Virtualization can reduce data center energy costs by up to 80%
(PRWEB) April 18, 2013
Many businesses are looking for convenient and cost-effective ways to go green and reduce their impact on the planet. Virtualization is a popular solution that can have a positive impact on the environment and your bottom line.
According to the federal Department of Energy, data centers use as much as 3% of American electricity or about 120 billion kilowatt hours per year. This adds up to approximately $7.4 billion. With data creation increasing rapidly, it's important to consider improved options for storage space and support.
"As servers guzzle up resources at business, you'd think that executives would look for a more efficient way. However, I find that many organizations are running servers at about 5% capacity. Through virtualization, we can help these companies get that rate up to 80% or higher," said NetGain Technologies Director of Storage and Virtualization Bryan Jackson.
In addition to increased efficiency, Jackson noted that a virtualized environment also helps reduce server sprawl, cut maintenance costs and reduce the overall energy consumption of their facility.
In fact, virtualization can reduce data center energy costs by up to 80%, according to VMware, a global leader in virtualization and cloud infrastructure. And this type of consolidation can improve IT capacity through improving server utilization by running fewer, highly-utilized servers – freeing up power and space.
This is critical because big data is predicted to keep growing. The IDC recently forecasted that the big data service market will expand at a 31.7% compound annual growth rate – that's about seven times faster than overall I.T. market, which is developing rapidly in its own right.
"I tell clients all the time that data is immortal. With all of our backups and archives, it never goes away. Think about it: when is the last time you really deleted something? Even when you think you've deleted something, you really didn't; but that's another story," explained Jackson. "It's critical that businesses explore their options when it comes to data storage. Virtualization could be a solution for your business and has some environmental benefits too."
Bryan Jackson and NetGain Technologies have a bit of a green thumb when it comes to virtualization. They help companies reduce costs while benefiting the environment, helping to make Earth Day a little greener.
About NetGain Technologies:
NetGain Technologies is a leading provider in the design, procurement, implementation and management of high-performance IT solutions. With services ranked among the best in the world by MSPmentor and CRN Tech Elite, a multi-state regional footprint and almost three decades of experience; we've helped over 1,000 unique clients thrive by leveraging our best-in-class service and support programs. Our highly qualified and experienced professionals align our best-in-class support programs to meet our clients' needs for positive business outcomes. Learn more at http://www.netgainit.com.