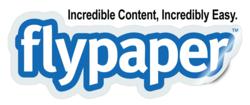 These will allow users to quickly and easily improve the functionality and appeal of their displays.
CINCINNAITI (PRWEB) April 23, 2013
Flypaper Pro content creation software users now have the ability to increase consumer engagement and the amount of information available through its digital displays. The addition of Quick Response technology allows consumers to use their mobile device to scan a unique code and directly access targeted information provided by the display owner.
Flypaper Studios™, Inc. today released version 3.9 with several new features and enhancements. Among them is the addition of QR technology.
"We're thrilled to add QR Codes to our content offerings," says Don Pierson, founder and president of Flypaper Studio, Inc. "These will allow users to quickly and easily improve the functionality and appeal of their displays."
The QR Generator helps content creators give end users access to additional information by making it easy to include a QR Code in their displays. They simply type in a URL and the software produces the QR Code and inserts it into the content.
The QR Wayfinder will get end users where they're going. They type in beginning and end points to get a QR Code they can scan with their mobile device to download customized directions to their destination.
Other Flypaper 3.9 updates include:

Flybrary List View: Quickly scroll through a text listing of Flybrary items.
Digital Sign Templates: Templates specifically designed for digital signage applications are now available for Flypaper Pro users.
Component Enhancements: Improvements to several Flypaper Pro Components including: Image Cube, Image Gallery, Clock, Weather and CSV. Version 3.9 also adds a Charting Component to quickly add dynamic charting to any project.
Safe Image Search: Filters out inappropriate images with a default setting that produces only Flckr-approved results.
Current users can add these enhancements today by selecting "Check for Updates" in the Flypaper Help menu. For more information about Flypaper, or to download a 30-day free trial, visit http://www.Flypaper.com .
About Flypaper™ Studio, Inc. and Trivantis Corporation
Flypaper™ Studio, Inc. is a wholly-owned subsidiary of Trivantis Corporation. Flypaper is a leading content-creation platform that empowers users to create, share, track and reuse high-impact, interactive graphics and video content. The user edits and manipulates components without complicated programming. Trivantis' flagship product is Lectora®, the world's leading e-learning software. Lectora is used by Global 2000 companies in more than 125 countries and is available in six languages. Trivantis Corporation is headquartered in Cincinnati, Ohio, and has offices in Boca Raton, Phoenix, Paris, London and Beijing. Trivantis, Lectora, Flypaper, CourseMill®, Snap! By Lectora® and Snap! Empower are trademarks of Trivantis Corporation.
Website: http://www.Flypaper.com
Phone: 1.877.929.0188 / +1.513.929.0188