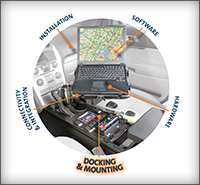 Warminster, PA (PRWEB) April 18, 2013
At next week's NAFA 2013 Institute & Expo (I&E), Havis Inc. will moderate a panel of industry experts from Panasonic, AT&T and Telogis for the presentation, "The Next Generation of Mobile Computing – Tablets & Beyond." The presentation will take place on Friday, April 26, at the Atlantic City Convention Center in Atlantic City, N.J. Havis, AT&T and Telogis will also be exhibitors on the Expo Floor in Booths 550, 940 and 701, respectively.
"The Next Generation of Mobile Computing – Tablets & Beyond" will advise how to increase productivity of a mobile workforce while decreasing overall costs and keeping workers safe. It will also dissect the components of a Total Mobility Solution and discuss innovative applications for tablets, as well as how tablets are contributing to the rapid adoption of mobility solutions.
The panel of experts will provide insight on emerging trends in hardware, software and telecommunications, and how cloud computing is influencing the world of mobility. The panel will include moderator Keith Steidle, Director of Marketing and Business Development at Havis; Thomas O'Connor, National Business Development Manager at Panasonic; John Moscatelli, Industry Director at AT&T; and Mark Sargent, Director of Solutions Engineering at Telogis.
NAFA's annual I&E is the largest fleet management event of the year, which provides thousands of fleet professionals with networking opportunities, cutting-edge training and education, and access to the latest services and products on the Expo Floor. NAFA attendees are decision-makers in all industry segments, and more than 80 percent of them have purchasing power.
As an added benefit, attendees will get the opportunity to have their fleet questions answered by representatives of Ford, Chrysler and General Motors during a special OEM "Fireside Chat" on the morning of Wednesday, April 24. This group discussion will focus on questions obtained from a survey of NAFA members conducted in March, as well as the role that fleets will play in the future of the auto industry.
Havis encourages fleet managers to attend the "Fireside Chat," which should provide valuable insights for future cost-savings, improving fleet safety, and equipping vehicles with the latest technology. Havis understands the importance of open communication with vehicle OEMs, and regularly collaborates with Ford, Chrysler and General Motors to maximize comfort, safety and quality within each vehicle.
In order to enhance its focus on the critical issues specific to fleet managers, Havis also maintains a close relationship with NAFA. Currently, 10 Havis employees are active NAFA members, including CEO Joe Bernert.
NAFA Fleet Management Association is a not-for-profit organization for professionals who manage fleets of sedans, public safety vehicles, trucks, buses, and a wide range of military and off-road equipment. In addition to its annual I&E, NAFA provides its members with statistical research, publications, regional chapter meetings, government representation, seminars, online information, and many other products and services.
For more information on building a successful Total Mobility Solution, fleet managers are encouraged to attend "The Next Generation of Mobile Computing – Tablets & Beyond" on Friday, April 26, at NAFA's 2013 Institute & Expo. To learn more about Havis mounting and docking products, please visit Exhibit Booth 550.
Follow Havis
Stay up-to-date on the latest products and announcements from Havis through Facebook, Twitter and YouTube.
About Havis
Havis Inc. is a privately held company that manufactures in-vehicle mobile office solutions for public safety, public works, government agencies and mobile professionals. For over 80 years, the Havis mission has been to increase mobile worker productivity with industry-leading products that are built to the highest safety and quality standards and are designed with comfort in mind. Headquartered in Warminster, Pa., with an additional location in Plymouth, Mich., Havis currently employs 175 people. For more information on Havis, please call 1-800-524-9900 or visit Havis.com.
Contact:
Andrea Felice
Havis, Inc. | Marketing
Phone: 215-957-0720 ext. 3198
E-mail: media(at)havis(dot)com
Website: Havis.com