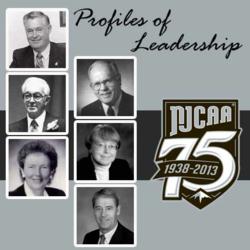 Colorado Springs, CO (PRWEB) April 18, 2013
The national headquarters of the National Junior College Athletic Association (NJCAA) has released the eighth edition of its 75th Anniversary Feature Series. The series is one of the primary items of the organization's ongoing celebration of its 75th Anniversary.
The latest installment, entitled "Profiles of Leadership," turns the spotlight on six former NJCAA Presidents that led the organization from 1973-2011.
The feature is available in the April 2013 edition of NJCAA Review – the official publication of the NJCAA – and can also be accessed by visiting the special 75th Anniversary section of the organization's website at http://www.njcaa.org/75.
To request permission to run the feature in your publication contact NJCAA Assistant Executive Director Mark Krug at mkrug(at)njcaa(dot)org.
The final installment of the NJCAA 75th Anniversary Feature Series will be released in May.
About the NJCAA
Since 1938 the National Junior College Athletic Association (NJCAA) has been the governing body of two-year college athletics, offering athletic and academic opportunities to college students. Now entering its 75th anniversary, the NJCAA is the second largest national intercollegiate athletic organization in the United States with over 500 member schools in 43 states. Each year 60,000 student-athletes compete in one of 28 different sports and the organization sponsors 48 national championship events and nine football bowl games. NJCAA Headquarters has been located in Colorado Springs, Colo., since 1985. For more information visit http://www.njcaa.org.