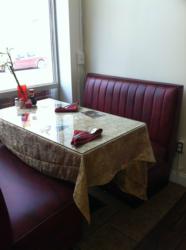 Knowing that they are buying a booth from a company that is manufacturing the furniture itself, in the USA, and not importing a product made by somebody else, is very important to our patrons
(PRWEB) April 19, 2013
Restaurant Furniture Supply, a leading commercial seating manufacturer, has helped bring an exotic touch to Bethlehem, Pennsylvania by custom-making booths for new Malaysian restaurant, Jenny's Kuali.
Jenny's Kuali specializes in fresh, made-to-order curry and noodle dishes reflecting the various cultures in Malaysia. Vegans, vegetarians and meat-eaters will all find an ample selection of adventurous menu items, with new specials appearing daily.
Never before have diners in Bethlehem had the pleasure of dining on delicacies such as Duck Wonton Mee - roast duck, won tons, a side of bok choy and won ton noodles; or Mee Goreng - stir fried noodles infused with tomatoes and spices.
While the unique food served at Jenny's Kuali is an obvious draw for locals, making the venue comfortable and personable has also been an important part of its early success.
Local Lehigh Valley newspaper, The Morning Call, described the venue as "small, with less than a dozen tables and two window booths that provide a fine perch for people-watching. Old building details such as high ceilings, crown molding and dark, narrow-plank wood floors establish character, while pale yellow walls create a serene backdrop for tables topped with lavish gold brocade cloths. Bamboo shoots in place of floral centerpieces feel especially appropriate."
Booths are an important part of any restaurant looking to provide comfort for their patrons. Restaurant Furniture Supply offers a number of booth styles in endless upholstery options. The restaurant booths provided for Jenny's Kuali were custom made in the USA, as are all of Restaurant Furniture Supply's booths.
Jenny Lim, the owner of Jenny's Kuali, chose a 12 Channel Booth with wine-colored vinyl upholstery in the height and width that was appropriate for her venue.
"We don't take it for granted that our customers will automatically know what size, shape and style of booth, or how many booths are right for their dining space. We feature a booth space calculator on our website that helps people determine how many booths they need for their space, and we also have an interactive 3-D booth viewer that shows you what your booth will look like in your color and style choices," Restaurant Furniture Supply CEO Jeff Walden explained.
Walden stated that Jenny's, as well as his other customers, are much more confident in their purchases from Restaurant Furniture Supply, because the booths are custom-made in America. "Knowing that they are buying a booth from a company that is manufacturing the furniture itself, in the USA, and not importing a product made by somebody else, is very important to our patrons. We make booths in accordance with our customers' wishes and according to our own very high standards."
For Bethlehem, Pennsylvania, the partnership of Restaurant Furniture Supply and Jenny's Kuali has brought a friendly and comfortable place to hang out, where culinary surprises always await.
To browse Restaurant Furniture Supply's selection of restaurant chairs, bar stools, booths, tables and outdoor furniture visit http://www.restaurantfurnituresupply.com or call a customer service representative at (888) 346-9992.
Jenny's Kuali is located at 102 East 4th Street in Bethlehem, PA. For more information visit http://www.jennyskuali.com, call (610) 758-8088 or check them out on Facebook.