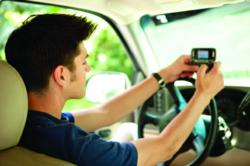 LINCOLN, RI (PRWEB) April 18, 2013
April is Distracted Driving Awareness Month, making it a good time to warn motorists about the dangers of texting and driving. That's why Amica Insurance is sharing tips to help cut down on cellphone use while behind the wheel.
According to the National Highway Traffic Safety Administration (NHTSA), a texting driver is 23 times more likely to get into a crash than a non-texting driver. Additionally, of those killed in distracted-driving crashes, 995 (18 percent) reported a cellphone as the cause for distraction.
Amica is offering the following 4 tips from the NHTSA to help eliminate texting and driving:
1. When you're in the car, put your cellphone in a place that is unreachable and out of sight.
2. Turn off audio notifications. If you can't hear the phone go off, there will be no temptation to respond to text messages.
3. Lend your phone to a passenger in the car and have them do the texting if an immediate response is necessary.
4. Download an app that will temporarily disable the phone while driving. You can use it again upon arriving at your destination.
About Amica Insurance
Amica Mutual Insurance Co., the nation's oldest mutual insurer of automobiles, was founded in 1907. The company, based in Lincoln, RI, is a national writer of automobile, homeowners, marine and personal umbrella liability insurance. Life coverage is available through Amica Life Insurance Company, a wholly owned subsidiary. Amica employs more than 3,200 people in 40 offices across the country.
CONTACT: Vince Burks, Corporate Communications, 50 Amica Way, Lincoln, RI 02865-1155, 800-652-6422, ext. 24563
Twitter: Amica
Facebook: Amica Mutual Insurance Co.