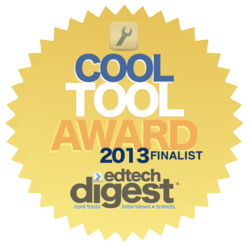 New York, NY (PRWEB) April 18, 2013
Pearson, the world's leading learning company, tops the list of finalists with seven honors in the 2013 "Cool Tool" Awards from EdTech Digest. Connections Education CEO Barbara Dreyer is a finalist in the Founder-CEO category and four digital programs are finalists in six product categories of the awards program.
EdTech Digest is an e-zine that features the latest learning-related technology, in-depth interviews and notable trends in the education and technology space. The EdTech Digest "Cool Tools" Awards Program recognizes products trendsetters and leaders in the education and technology sector.
Pearson "Cool Tools" Digital Product Finalists

Connections Education's Nexus Academy is a finalist in the Product or Service Setting a Trend category. Nexus Academy is a tuition-free college preparatory high school that provides students with a unique blend of online and classroom learning with personalized learning plans and a challenging curriculum featuring Advanced Placement and honors-level courses
digits, Pearson's digital, interactive, web-based middle school math program, is a finalist in the Interactive Whiteboard Solution category. Written entirely to the Common Core State Standards, digits integrates lesson planning, homework management, intervention and assessment, all within a user-friendly design that encourages class collaboration via interactive whiteboards.
OpenClass from Pearson is a finalist in three categories: Product or Service, Emerging Technology Solution and Learning Management System. A new kind of learning environment, OpenClass is a dynamic, scalable, fully cloud-based solution that stimulates social learning and the exchange of content, coursework and ideas — all from one open, easy-to-use and completely free integrated platform.
Pearson's Zeos is a finalist in the Academic Gaming Solution category. An online standards mastery program, Zeos uses "gamification" to engage students in grades three through ten in assessment practice. By measuring against mathematics and English/language arts performance requirements, Zeos helps teachers prepare students for current statewide assessments and the transition to new Common Core assessments.
Just last month, 14 Pearson products, including OpenClass and digits, were named finalists in the prestigious Software and Information Industry Association's 2013 CODiE Awards. In addition, for the third consecutive year, Pearson led the 2012 Tech & Learning magazine Awards of Excellence competition with honors for nine of its online and mobile learning tools and programs.
In addition, under Dreyer's leadership, Connections Education has grown into a fully-accredited provider of high-quality, highly accountable virtual education solutions for students in grades K–12. Dreyer has previously been recognized by AdvancED and the United Sates Distance Learning Association for her work in advancing online learning.
About Pearson
Pearson, the world's leading learning company, has global reach and market-leading businesses in education, business information and consumer publishing (NYSE: PSO).
Contact:
kate.miller(at)pearson(dot)com – 1.800.745.8489