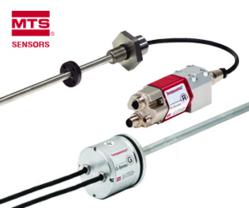 Cary, NC (PRWEB) April 18, 2013
At AISTech 2013 in Pittsburgh, May 6-9 (booth # 209), MTS Systems Corp., Sensors Division, is showcasing a range of magnetostrictive sensors designed for operation in high temperature environments, such as those found in steel mills and power generation applications.
"MTS Sensors have been used for decades to provide precise linear position sensing in steel mills," Matt Hankinson, technical marketing manager with MTS Sensors, explained. "As the needs of the industry evolve, our customers are turning to us to provide that same level of performance in more demanding plant conditions – allowing them to design systems that operate faster and more efficiently. At AISTech 2013, we will be showcasing several new products and solutions that accomplish this goal."
Working with customers, MTS Sensors is addressing the issue of higher heat from a couple of different angles. One new solution is to enclose the sensor and the electronics within a hermetically sealed cylinder, similar to how sensors are embedded in hydraulic cylinders in large scale construction equipment designed to operate outdoors.
To accomplish this goal, MTS is introducing the new Temposonics® G-Series Model GTE embedded magnetostrictive sensor at AISTech. Embedded into a hydraulic cylinder or other equipment, the Model GTE can withstand temperatures up to 85 degrees C and features a dual channel output. The new sensor also features an IECEx Zone 2 approval for use in hazardous areas.
A second solution is to physically remove the sensitive electronics and locate them far enough away from the equipment to avoid the harsher work conditions found in most mills. The Temposonics R-Series Model RD4 sensor incorporates a detached electronics design (the sensing element is connected to the electronics via a cable and pipe), allowing manufacturers and operators to place sensitive electronics in areas where interference or damage is less likely.
In addition to these solutions, MTS sensors will be showcasing the company's entire line of R-Series Temposonics sensors, designed to provide a high level of accuracy across many different applications.
Visitors are invited to visit the MTS Sensors booth, number (209) any day of the event to learn more.
Additionally, for more information on MTS Sensors, please visit http://www.mtssensors.com.
MTS Sensors, a division of MTS Systems Corp., is the global leader in the development and production of magnetostrictive linear-position and liquid-level sensors. Based on MTS' Temposonics® technology, the Sensors Division is continually developing new ways to apply magnetostrictive sensing technology to solve critical applications in a variety of markets worldwide. With facilities in the U.S., Germany, Japan and China, MTS Sensors Division is an ISO 9001-2008 certified supplier committed to providing innovative sensing solutions.