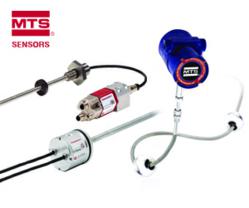 Houston, Texas (PRWEB) April 18, 2013
MTS Systems Corp., Sensors Division, showcased the company's full line of magnetostrictive sensors at the Offshore Technology Conference (OTC) 2013 in Houston, May 6-9 (booth # 7446). MTS Sensors' products meet many industry needs across a range of applications, including petrochemical storage tanks, valves, drilling rigs and others.
"The OTC market has long been an important focus for MTS Sensors," Matt Hankinson, technical marketing manager with MTS Sensors, explained. "Equipment in this industry has to perform at peak efficiency in some of the harshest environments on the planet. At OTC, we are demonstrating how our Temposonics® sensors can meet, and in many cases exceed, industry standards."
One example on display is the company's new Temposonics G-Series Model GTE embedded magnetostrictive sensors. Designed to be embedded into a hydraulic cylinder or other equipment, the Model GTE can withstand temperatures up to 85 degrees C and features a dual channel output. The new sensor also features an IECEx Zone 2 approval for use in hazardous areas.
In addition to the new Model GTE, MTS Sensors is displaying a range of recent innovations designed to perform in harsher operating conditions, including:

Temposonics® R-Series Model RD4 sensor, which incorporates a detached electronics design (the sensing element is connected to the electronics via a cable and pipe), allowing manufacturers and operators to place sensitive electronics in areas where interference or damage is less likely.
Level Plus® M-Series Sensors, designed to accurately measure many different liquid levels in storage tanks.
A full line of Temposonics® R-Series Sensors, designed for applications where a high level of accuracy is required.
"Safety is the single most important element to consider when designing products for this industry," Hankinson said. "Temposonics magnetostrictive sensors ensure continual and reliable performance while still meeting industry standards. There is no better solution when it comes to highly accurate measurement in harsh environments."
Visitors are invited to visit the MTS Sensors booth, number (7446) any day of the event to learn more.
Additionally, for more information on MTS Sensors, please visit http://www.mtssensors.com.
MTS Sensors, a division of MTS Systems Corp., is the global leader in the development and production of magnetostrictive linear-position and liquid-level sensors. Based on MTS' Temposonics® technology, the Sensors Division is continually developing new ways to apply magnetostrictive sensing technology to solve critical applications in a variety of markets worldwide. With facilities in the U.S., Germany, Japan and China, MTS Sensors Division is an ISO 9001-2008 certified supplier committed to providing innovative sensing solutions.