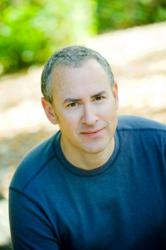 I am honored the judges of the 14th Annual ITA CityLIGHTS Awards have recognized me and Retrofit as a leader in innovation and achievements by selecting me as a CityLIGHTS finalist. - Retrofit CEO Jeff Hyman
Chicago, IL (PRWEB) April 18, 2013
Retrofit CEO Jeff Hyman has been selected as a finalist for a 2013 Illinois Technology Association (ITA) CityLIGHTS award for CEO of the Year. Hyman's success is being recognized by ITA for founding and leading the Chicago-based high-tech weight loss program for busy professionals. Retrofit has also been named by Forbes as the "front-runner" in harnessing wireless and remote technology to help busy professionals lose weight and keep it off.
Winners will be announced at the CityLIGHTS Awards Gala on Thursday, May 9, 2013, in the Great Hall at Union Station in Chicago. The gala attracts more than 700 people – representing 400 organizations – including business owners, investors, legislators and policymakers.
A panel of accomplished judges representing the Who's Who in Illinois technology reviewed nominations and selected the finalists. Judges hail from major organizations including Microsoft, University of Chicago, New World Ventures, Walgreens, and World Business Chicago. The list of past winners includes GrubHub.com, NAVTEQ, Model Metrics, Redbox, and Braintree.
"I am honored the judges of the 14th Annual ITA CityLIGHTS Awards have recognized me and Retrofit as a leader in innovation and achievements by selecting me as a CityLIGHTS finalist. I am honored to be in such good company among the select group chosen for the CEO of the Year Award," Hyman said.
The award is presented to the company CEO who has "led successful company growth through leadership, ability to attract and retain talented resources, financial accomplishments and strategy for continued company growth."
"We are thrilled to host an event where some of the many accomplishments of the local tech industry are recognized," said ITA President & CEO Fred Hoch. "Technology advancements affect every company, no matter the product or the industry. The need for companies to leverage the efficiencies offered through these new tools has never been more important, especially as they look to grow, attract and retain talent, and gain visibility. The Awards Gala is a celebration of the companies developing the technology and the companies utilizing it."
Public voting is open until April 22, 2013. Winners will be determined by composite score (50 percent judges; 50 percent community voting) in all categories except the CityLIGHTS Award, which is determined solely by the ITA Board of Directors. Votes can be submitted through end of day on April 22, 2013.
About Retrofit
Retrofit, the expert-led, data-driven weight loss program for busy professionals, is designed to deliver lasting results. Its innovative year-long program includes wireless monitoring of a client's weight, activity and sleep, as well as private lessons with a registered dietitian, exercise physiologist, and behavior coach. Retrofit recently raised $8 million in a Series A financing led by Draper Fisher Jurvetson (DFJ), bringing the total investment in Retrofit to $10.7 million.
Retrofit can be found on the Web at http://www.RetrofitMe.com and by calling 855-4-RETROFIT. Follow the company on Facebook and Twitter at @retrofitme.
About the ITA
The Illinois Technology Association (ITA) is the driving force behind Illinois' vibrant technology industry. ITA's extensive lineup of curated member programs and services address three key critical areas: growth, talent, and visibility. By leveraging the connections and expertise of its more than 600 member companies representing a workforce that is 50,000 strong and growing, the ITA provides the ecosystem growing technology companies need to succeed. For more information, visit http://www.illinoistech.org, follow the ITA on Twitter at http://www.twitter.com/itabuzz and view the ITA's Facebook profile at http://www.facebook.com/illinoistechnology.
Media Contacts: Dorothy Radke, Marketing & Communications, ITA, +1.312.924.1044, dradke(at)illinoistech(dot)org
Jennifer Zeidler, Director of PR & Social Media, Retrofit Inc. 855.473.8763 x776, jenniferz(at)retrofitme(dot)com