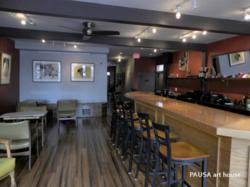 We were excited to be part of such an exciting venture. Helping this kind of establishment to a successful opening just as we have for countless restaurants, bars and other venues
(PRWEB) April 20, 2013
Online commercial seating outlet Restaurant Furniture Supply has helped Buffalo, New York's Pausa Art House to a successful grand opening that has invigorated the city's Allentown district.
Pausa Art House, which sits in a renovated, turn-of-the-century Allentown house, offers the city's denizens an intimate 1300 square foot, 99-seat music venue and coffee house which also features visual art exhibitions.
The venue is unique in that it is an "interactive art center" in which there are no barriers between the audience and the musicians, and comingling between artist and patron is part of the experience.
Pausa Art House features intimate concerts from Thursday-Saturday in which musicians play chamber music and other styles appropriate to a quiet and relaxed setting. During the weekdays the venue serves as a coffee house.
The Art House features wine and beer, specialty teas, coffee, soft drinks, sandwiches and ornate antipasti plates which are the ideal match for the cultural experience offered at the venue.
Creating the correct atmosphere for a venue of this nature was essential, and finding the right restaurant furniture to quietly bolster the Pausa Art House's style could not be overlooked.
"When furnishing a venue in which style is every bit as important as function, the stand out piece that will announce the intentions of the establishment's designers is the bar stool," Restaurant Furniture Supply sales representative Issac L. explained. "The Pausa Art House required bar stools that were both stylish and modern, but that could still fit like a glove in a converted turn-of-the-century house."
Pausa Art House's management team of Jon and Lazara Nelson opted for Restaurant Furniture Supply's Rounded Ladder Back Metal Bar Stool ($52) which currently comes free of shipping charges when 16 or more pieces are purchased. The stool is offered with an upholstered seat in a number of vinyl and fabric options or with a solid wood saddle seat. The Nelson's chose the wooden seat, which is a unique feature offered by Restaurant Furniture Supply as opposed to the industry standard plywood seat.
The stylish but unobtrusive bar stools blend perfectly with the venue's vintage accessories, as do the table bases which the Art house ordered from Restaurant Furniture Supply.
Restaurant Furniture Supply's bar stools and table bases, as well as the commercial furniture manufacturer's chairs, booths, table tops, and patio furniture are renowned for their durability and solid construction, much like the historic home in which the Pausa Art House makes its home.
"We were excited to be part of such an exciting venture: an interactive art center the likes of which doesn't exist anywhere else. It shows the versatility of Restaurant Furniture Supply's seating selection that we can help this kind of establishment to a successful opening just as we have for countless restaurants, bars and other venues," Issac stated.
Browse Restaurant Furniture Supply's full selection of chairs, bar stools, booths, tables and patio furniture at http://www.restaurantfurnituresupply.com or contact a customer service representative at (888) 346-9992.
Pausa Art House is located at 19 Wadsworth St. in Buffalo. For more information visit http://www.pausaarthouse.com or check them out on Facebook.