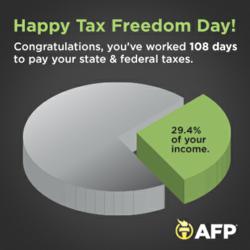 Arlington, VA (PRWEB) April 18, 2013
Today, Americans for Prosperity (AFP), the nation's leading grassroots organization dedicated to growing economic freedom across the country, released the following statement from AFP President Tim Phillips regarding Tax Freedom Day. Tax Freedom day is the day every year when Americans will begin to make money for themselves and their families instead of the government.
"American workers put in an additional full work week just to pay off their tax burden as this year's Tax Freedom Day falls five days later than it did in 2012. The higher taxes this year come largely from Obama's $620 billion tax increase through the fiscal cliff package in January, the payroll tax hike that will take $115 billion more out of workers' paychecks this year alone, and new taxes from ObamaCare.
"Government overspending leads to punishing tax hikes that hobble economic growth, stifle job creation and discourage entrepreneurship. We cannot expect to see real economic recovery until government stops overspending and lessens the tax burden on American workers."