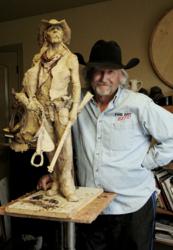 Scottsdale, AZ (PRWEB) April 25, 2013
Western bronze artist, Bergsgaard has been exhibiting his magnificent bronzes at the Arizona Fine Art EXPO since it began in 2005. With the end of this landmark Arizona event, the Arizona Fine Art Expo follows the artist as he travels by truck and trailer loaded with his bronze horses, cowboys and cowgirls to exhibit in the Calgary Stampede, July 5th through July 14th. Canadians and visitors from across the globe congregate to experience the distinguished, 100 year old event that includes rodeo competitions, one-of-a-kind events and, of course, the western art show!
The American cowboys began instantaneously once the Civil War ended. The range cattle industry began in Texas, beginning in the early 1870's, in the Southwest and on the northern Great Plains. A few of the young men who worked on the ranches came from the northeastern states, but the majority came from the south, and many just returned from fighting in the Civil War. For their skill, gear and paraphernalia, cowboys drew on both the Spanish traditions of northern Mexico and southern Texas and those of the Gulf coastal states. Their work year was made up of roundups held in the spring and often in the fall. After the cowboys had herded cattle to a central location, they branded newborn calves, castrated and dehorned older animals, and in the spring, chose the cattle to be taken to market on their long drives.
Bergsgaard grew up on a dairy farm near a small Norwegian town of Spring Grove, Minnesota. He learned hard work beginning at a young age. His art has evolved from wood to bronze, taking inspiration from his Scandinavian and Western heritage. Craig's work has taken its place amongst art connoisseurs, collections and museums. His life size bronzes have been purchased as landmarks by both cities and foundations across the nation.
Craig Bergsgaard will be returning to the 10th Annual Arizona Fine Art EXPO, January 16th through March 30th, 2014 where he can be found sculpting in his studio for the duration of another ten week event.
Please contact us regarding any questions, a personal interview with the artist, photos, etc.  For information regarding the Arizona Fine Art EXPO view our website at http://www.ArizonaFineArtEXPO.com