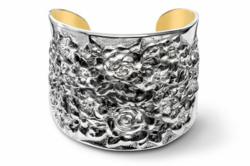 In 2013 when fashion means flowers, there has never been a better year to make it repousse' for Mother's Day!
Baltimore, MD (PRWEB) April 23, 2013
Repousse' Jewelry by Galmer has unveiled four new luxury silver' jewelry gifts designed, created and hallmarked in the Galmer Fine Silver workshops in New York. The classically beautiful floral designs are enhanced in texture and weight by the company's proprietary, rare repousse' silver making (meaning "pushed from the back") technique. "There has never been a better year to make it repousse' for Mother's Day," according to Carolyn O'Keefe, managing partner of the company.
The company offers two new silver cuff bracelets, Michael Galmer's speciality, and two pretty, highly-wearable earrings. The English Roses Cuff features a flurry of petite roses in various states of bloom. Reminiscent of beautiful rose-patterned antiques cherished by collectors, Galmer's design is more robust with fuller expression of each rose and a clean, rolled edge and for modern wear.
The Morning Bloom Cuff is slightly wider and more boxy than Galmer's prior cuffs. Classic meets dramatic as the robust floral motif is coupled with crisp square ends. The cuff is both utterly feminine and boldly assertive. The plump sexy blooms are evidently just beginning to open to the sun. This is a flower of Galmer's own invention drawing from his observation of peonies, chrysanthemums and roses. Mothers who love any of these flowers will love The Morning Bloom Cuff.
Carolyn O'Keefe's favorite earrings, created by Michael Galmer for her own wear a year ago, are The Petite Rose Earrings. Roughly the size of a dime, each exquisite earring is a single rose turned prettily. "These earrings are incredibly easy to wear no matter what the occasion. The Petite Rose Earrings capture attention far more than a simple stud earring and are rich in tiny detail," says O'Keefe. Galmer is now working on the addition of a single center diamond or colored gem, nestled in each rose's center, for customers who prefer a touch of elegant, natural sparkle.
A Mother's Day favorite last year was The Cherry Blossom Cuff both all-silver and the pink tourmaline version. So, Michael Galmer created The Cherry Blossom Earrings touched with pink tourmalines. The earrings measure roughly the size of a quarter, yet are defined by a petaled edge and asymmetrical configuration of blossoms in nature. The detailed charming blossoms make these earrings Galmer's most feminine yet.
Why repousse' for Mother's Day? Chocolates are fattening, flowers fade, and a single impressive gift acknowledges mom's singular importance and discerning style. Packaged in a luxurious white gift box with a protective cushioned silk, the presentation signals this is a piece of enduring worth. Other spring celebrations are perfect cuff opportunities as well.
Consider a handcrafted repousse' cuff for the graduate. As the graduate moves on to her career, a classic strong sterling cuff will instill and exude confidence. For a bride or for an anniversary, a piece of luxury silver jewelry is ideal. Especially if it's your 25th year of married bliss, a gorgeous work of art, handcrafted and hallmarked by renowned Tiffany designer Michael Galmer is worthy of her and the occasion.
Repousse' Jewelry by Galmer is a young company which debuted at Luxury Prive' in July 2011. The company has no equal in the breadth of its cuff collection, currently numbering over 30 exquisitely handcrafted and hallmarked designs by Michael Galmer. Galmer is a legendary silver artisan who created intricate silver pieces for Tiffany & Co. for twenty years then went on to develop his own vast line of luxury silver tabletop pieces. The Galmer mark signals extreme quality and distinction among discerning collectors worldwide. Carolyn O'Keefe is a luxury marketing executive who partnered with Galmer to develop and market his debut repousse' jewelry line.
The collection is sold online and at fine jewelry stores including Works Gallery, NYC; Tiny Jewel Box, DC; Sylvan DuBose, Columbia, SC; DeScenza Diamonds, Hingham, MA; Elie Designs, Yelm, WA; and Sharfman's Jewelers in Worcester, MA. Custom adaptations are available with advance orders. For more information, contact Carolyn O'Keefe at 410.218.9500 or email carolyn(at)repoussejewelry(dot)com.