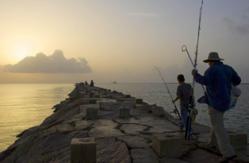 Did you ever look at a bottle or can and wonder why your state isn't one of the ones that allows a 5 or ten cent refund? It might have been a ballot measure.
Madison, WI (PRWEB) April 18, 2013
In anticipation of Earth Day this Saturday, Ballotpedia compiled a list of the six most interesting ballot measures addressing environmental issues:
1. For sale: Submerged lands
In 1970, voters in Florida approved an amendment to the state constitution that restricted state sales of submerged lands to instances in which the sale is in the public interest.
2. Beverage container refunds
Did you ever look at a bottle or can and wonder why your state isn't one of the ones that allows a 5 or ten cent refund? Guess what, it might have been a ballot measure! Washington (in 1970), Alaska (in 1978) and Colorado (in 1982) defeated amendments that would have mandated a refund on beverage containers.
3. Repealing all wildlife regulations
In 1940, voters in the Show Me state voted down a proposed measure that would have repealed the Wildlife and Forestry Code as well as all laws and regulations ordained and established by the Conservation Commission.
4. Arizona's State Sovereignty
In 2012, Arizona voters struck down an amendment that would have given Arizona control over the state's natural resources, including land, air, water, minerals, and wildlife. Yes, that would likely have included Grand Canyon National Park.
5. Outdoor Advertising
Voters in Missouri voted against a 2000 amendment that would have prohibited the construction of new outdoor advertising and restrict existing outdoor advertising along all national highway system highways in the state. Alaska faced a similar question two years earlier, and voters there opted to make the state "be forever free of billboards."
6. Timber harvesting showdown in Maine
In 1996, the issue of clear cutting and timber harvesting was on the Maine state ballot in a unique way. Voters to choose one of three options: approve a proposed change to the laws that was initiated by a citizen petition (2A), approve a competing measure passed by the state legislature (2B), or reject both (2C). That year, the legislatively-referred measure passed with 47.4% of the vote. But because the measure did not receive a majority of the vote, it was re-submitted for the next statewide election as a separate measure. In 1997, the measure was defeated.
Curious what didn't make the list? Ballotpedia has an entire page dedicated to environmental issues on the ballot.
<br>
About Ballotpedia
Established in 2007, Ballotpedia is an online almanac about state elections and election law. It includes information about the U.S. Congress, state legislatures, ballot measures (including ballot measure law, school bond and tax elections, recall elections and local ballot measures), and state executives. Ballotpedia's staff includes 15 researchers and writers, as well as volunteer writers and editors. It is published by the non-profit, non-partisan Lucy Burns Institute, which is based in Madison, Wisconsin.
###
If you'd like more information, or to schedule an interview with Ballotpedia's project manager, please contact Lauren Warden Rodgers at Lauren.Rodgers (at) lucyburns (dot) org.