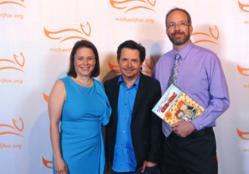 Just being nominated is beyond my wildest dreams.
(PRWEB) April 19, 2013
Asheville-Buncombe Tech Community College graduate and local business owner Chris Sparks has been nominated for a prestigious Eisner Award, what many in the industry consider to be the Academy Awards of comics.
The book, Team Cul De Sac: Cartoonists Draw the Line at Parkinson's, was edited by Sparks to raise funds for the Michael J. Fox Foundation, the world's largest private funder of Parkinson's research. It is nominated in the Best Comics-Related Book category.
"I was totally gob-smacked when I heard the news. As a comic fan I never thought I would ever be nominated for an Eisner award," said Sparks, a 2010 Digital Media Technology graduate. "Will Eisner was a comic genius and I am such an admirer of his work. Just being nominated is beyond my wildest dreams."
The Will Eisner Comic Industry Awards are prizes given for creative achievement in American comics books. The winners are announced each July during Comic-Con in San Diego. Eisner, who died in 2005, was one of the earliest cartoonists to work in the comic book industry. He was the creator of the series, The Spirit, and also later popularized the term graphic novel.
Sparks organized Team Cul de Sac when he found out his friend Richard Thompson was diagnosed with Parkinson's disease. Thompson is an award-winning cartoonist whose syndicated strip "Cul de Sac" followed the life of a preschool girl named Alice Otterloop, her family and friends, until Thompson stopped the strip to concentrate on his health in September 2012.
In the summer of 2010, Sparks came up with the idea to get other illustrators to donate artwork to auction for the foundation. After contacting cartoonists from around the country, about 150 pieces were donated for the auction. Sparks and his business partner in Sparking Design of Asheville, Jamie King, a 2009 A-B Tech graduate, worked with Andrews McMeel in Kansas City to publish a book with the artwork.
"Jamie and I did help design the look of the book on the interior. We came up with the concept design," said Sparks. Thompson himself designed the cover. "I am not doing this for the money, but for Richard. He is such a great guy and to have a disease that could rob you from what you love most is horrible. I hope this makes a difference and makes people more aware. Our project raised more than $53,000 last year and with matching funds we made a little over $102,000 dollars to give to the Fox Foundation in Richard's honor."
Earlier in April, Sparks and his wife, Jennifer, went to New York City for the Michael J. Fox Foundation gala. "It was a pleasure to meet Michael. It is nice for the contributors to be recognized for their hard efforts and hopefully this will keep raising awareness and money for Parkinson's research," Sparks said.
Fox, who Sparks says is a fellow Mad Magazine fan, released the following statement about the book through his foundation. "Richard Thompson is lucky to have a friend like Chris Sparks. With this amazing collection, Chris is raising significant dollars and awareness for Parkinson's – while proving comedy can speed a cure. We're grateful to have both Chris and Richard on our team." Team Cul De Sac: Cartoonists Draw the Line at Parkinson's can be purchased at Sparking Design.