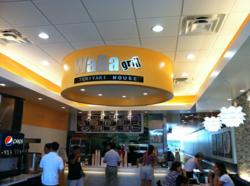 We are equipped to serve high-end, fine dining restaurants as well as quick service franchises with multiple locations," RestaurantFurniture.net's Mike Smith explained
(PRWEB) April 21, 2013
Leading North American restaurant furniture manufacturer RestaurantFurniture.net recently helped Waba Grill Teriyaki House open a new location in the Washington D.C. suburb of Springfield, Virginia.
Waba Grill is a quick service restaurant franchise that began in the Los Angeles area, and with the help of Michael Kim, is now making its way into Northern Virginia and the suburbs of Washington D.C. The quickly spreading franchise, which seeks to have 2,000 locations open nationwide by 2025, offers a 21st century alternative to traditional, unhealthy fast food. Kim opened the first Virginia location of Waba Grill in Chantilly and has now opened the new location in Springfield.
Kim sought to set the new location in Springfield apart from his competitors by creating a colorful interior for his restaurant. He turned to RestarauntFurniture.net to help furnish the 1,600 square foot venue because of their wide selection of colorful upholstery options and reputation for fine craftsmanship.
Waba Grill has had success and continued to spawn new franchises because of a sound business plan geared to today's market. The restaurant's menu, a modern rendering of Japanese and Korean cuisine, boasts all natural ingredients, with no additives, no oil used in cooking, no fried food, low fat and low calories, all costing about $4-10$ per person. In this way the restaurant has been able to market itself to the health-conscious as well as to customers looking to save money in a difficult economy.
RestaurantFurniture.net, a company which both manufactures and distributes furniture for businesses in the hospitality industry, specializes in making commercial grade furniture, ideal for a high volume restaurant such as Waba Grill. "We are equipped to serve high-end, fine dining restaurants as well as quick service franchises with multiple locations," RestaurantFurniture.net's Mike Smith explained. "Michael Kim's vision for how his restaurant should look was as well-defined as the restaurant's menu and marketing campaign were. Because we offer numerous styles, colors and upholstery options on all our restaurant chairs, booths, bar stools and tables, we can accommodate the vision of any restaurant," he added.
Waba Grill's Springfield location is part of an urban renewal taking place in an area of the city which had not been utilized by businesses in recent years. Therefore the look of the Waba Grill was important in reestablishing Central Springfield as prime real estate and pulling other businesses to the area. Michael Kim was extremely satisfied with the appearance of his restaurant, praising RestaurantFurniture.net for its "variety of colors to match our colorful interior."
Browse RestaurantFurniture.net's selection of chairs, bar stools, booths, table tops, table bases and patio furniture at http://www.restaurantfurniture.net or contact a customer service representative at (888) 409-1115.
Contact the Waba Grill Teriyaki House in Springfield, Virginia at (703) 644-0977.