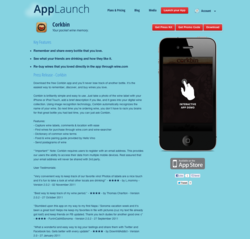 "At AppLaunch we take pride in giving developers tools that help them to stand out from the crowd … reducing the barrier to reviewers trying your app will increase the chances of being noticed.
New York, NY (PRWEB) April 18, 2013
AppLaunch and Kickfolio today launched a partnership allowing App developers to embed fully interactive iPhone apps within their press releases. This enables reviewers and members of the press to try the app in a web browser without needing to download the app to their iPhones.
The technology, built by Kickfolio, a San Francisco-based startup, enables a fully interactive iPhone Simulator to be viewed in a webpage using HTML5 while clicks and gestures are carried back to the Simulator to provide input. Kickfolio recently graduated from the prestigious 500 Startups program founded by renowned investor Dave McClure.
"The experience that can be delivered to modern browsers is amazing," says AppLaunch CTO Chris Korhonen, "You can interact with a iPhone simulator, in real-time, in your web browser. Kickfolio have done an awesome job crafting this technology and we are excited to be their partner."
App developers and marketers face harsh competition to be noticed by the app & technology press and AppLaunch enables developers to undertake their own PR through developer-education and by providing low-cost tools to help developers get their apps in front of reviewers.
"Kickfolio was built to make try-before-you-buy possible for mobile apps. Our partnership with AppLaunch is incredibly exciting and builds towards that vision," says Kickfolio CEO Edward Dowling, "Together, AppLaunch and Kickfolio are lowering the barriers to mobile app adoption and changing the way users and the press engage with and discover mobile apps."
This release marks the first time that app reviewers and members of the press (as well as prospective users) can both learn about and actually try an iPhone app on the same page in a desktop or mobile web browser.
Chris Maddern, CEO of AppLaunch said "At AppLaunch we take pride in giving developers tools that help them to stand out from the crowd. With 15,000 new apps being released every week*, it's harder than ever to make sure that your app gets the attention that it deserves and that your hard work (often in developers' personal time) pays off. Reducing the barrier to reviewers trying your app will increase the chances of being noticed."
A preview of a press page with an embedded app demo can be seen here: http://applaunch.us/press-release/corkbin--11
*Vision Mobile Study 2012
Contact:
AppLaunch
Chris Maddern
http://applaunch.us
chris(at)applaunch(dot)us
Kickfolio
Edward Dowling
http://www.kickfolio.com
ed(at)kickfolio(dot)com