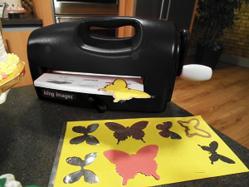 "The Sweet Accents Designing Machine™ is an answer to sugar artist at every level. This is the first machine of its type to be made for the edible industry."
Winchester, VA (PRWEB) April 30, 2013
After months of planning and development, Icing Images has added the Spellbinders Sweet Accents die cutting and embossing machine to their catalog of edible paper art cutters and cake decorating tools. Spellbinders out of Phoenix, AZ has worked with Icing Images to develop and manufacture food-safe, stainless steel, Teflon coated dies and embossing folders that work perfectly in the new machine.
The collaboration started just last fall when Debbie Coughlin, owner of Icing Images, called the product development department at Spellbinders to investigate whether their product could cut and emboss the Premium Icing Sheets from Icing Images.
"The Sweet Accents Designing Machine is an answer to sugar artists at every level. This is the first machine of its type to be made for the edible industry. Sugar artists often find themselves trying to adapt non-edible tools for use for their decorating needs. Spellbinders had a vision that incorporated well with Icing Images' products to create a safe decorating tool that allows cake and confection decorators to explore their creativity." said Debbie Coughlin, owner of Icing Images.
A mutual need for and interest in each other's products sparked the research into possibilities of bringing the cake decorating machine to market.
"We're beyond excited to be working with Icing Images and Debbie in this new adventure. It's a perfect fit! Spellbinders has been making die templates and embossing folders for the craft world for many years. These new food-safe dies and folders along with the Spellbinders Sweet Accents Cake Designing Machine will bring fabulous ideas and inspiration for cake and baking enthusiasts everywhere!" said Stacey Caron, President and Co-founder of Spellbinders.
Dies for the cutting machine are broken down into the two different skill levels of beginner and intermediate. Beginner dies are called Nestabilities™ and intermediate dies are Shapeabilities™. Embossing folders with dot and garden lattice patterns are also available. All cut or emboss icing sheets in a variety of colors, creating the edible cake and confection decorations.
Nestabilities are basic dies that stack one inside the other, giving solid shapes as well as outlines from icing sheets. Shapeabilities consist of flowers, butterflies, leaves, and vines.
Grand Templates™ are larger dies also available for bigger applications.
All the dies have the patented ability to cut, emboss and stencil with one die and embossing plates add depth and dimension to the icing sheets.
Icing Images and Spellbinders will continue to work together to develop additional dies and embossing folders for the Spellbinder Sweet Accents Cake Designing Machine.http://www.icingimages.com/sweet-accents-cake-designer
Icing Images anticipates over 50 dies by its debut at the International Cake Show – ICES in Kentucky in August 2013.
The two companies have assembled a design team that will be endorsing and teaching decorating methods to end users of the machine consisting of well know chefs and sugar artists. The design team includes: Mike Terry, CMSA from Bakery Pros, Sugar Artist Peg Tucker from School of Cakeology, Sugar Artist Sidney Galpern from Simi Cakes, Sugar Artist Teri Tarbox from Simply Cakelicious, and Sugar Artist Edna De La Cruz from Design Me A Cake.
The demand for the machine from sugar artists has been overwhelming as it sold out from Icing Images in the first week of availability. Spellbinders has increased the production of the machine to meet the demand.
Icing Images http://www.icingimages.com has been a leading distributor of edible image and edible paper art supplies for over a decade. Edible image supplies such as edible image printers, edible ink, icing sheets, and electronic cutters are used by cake and confection decorators throughout the world.