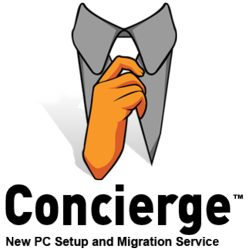 This is a hands-on, step-by-step new PC setup and transfer service delivered by a trained professional.
BELLEVUE, Wash. (PRWEB) April 18, 2013
Laplink announced today that Laplink Concierge™, the new PC setup service from Laplink, is now available.
Laplink Concierge allows customers to place a free call to a professional technician who then facilitates the entire new PC setup and transfer process – including transferring applications to the new PC.
Numerous studies show that the inconvenience and time required for setting up a new PC results in consumers putting off the purchase of a new PC. This pain point is widely acknowledged and understood, and many in the PC industry have attempted to solve it with mixed results. Laplink Concierge is different. There's no need to buy a product, install, or troubleshoot anything. Consumers simply call and have a professional technician manage the entire setup and migration process remotely.
"Laplink Concierge isn't technical support," stated Thomas Koll, Laplink's CEO. "This is a hands-on, step-by-step new PC setup and transfer service delivered by a trained professional. There is no need to invite a stranger into your home, sign any contracts, or worry about data loss."
The trained professional technician walks the customer through the new PC setup process from start to finish, helping to connect monitors, printers, and configure Internet access. The expert then transfers all data, user profiles, settings, and even selected applications to the new PC.
Other companies offer PC setup services and some even offer data migration, but only Laplink supports the transfer of applications from an old PC to a new one. Furthermore, with a retail price of only $99.95, Laplink Concierge does far more than its competitors for much less.
Laplink Concierge launched in the USA and Canada on April 18, 2013. Please visit http://www.laplink.com/concierge for more information on this unique service.
About Laplink Software, Inc.
For 30 years, Laplink has been the leader in consumer and enterprise software for Windows migration and refresh projects, disk imaging, file synchronization and more. The privately-held company was founded in 1983 and is headquartered in Bellevue, Washington.