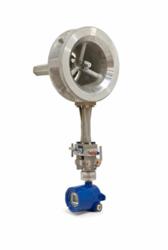 Blythewood, South Carolina (PRWEB) April 19, 2013
Spirax Sarco is pleased to announce the release of the Gilflo ILVA flowmeter with Compact Stem accessory for saturated steam, liquid and gas applications in line sizes 10" and 12". The compact Gilflo ILVA flowmeter system is comprised of four individual pieces: An ILVA, a compact stem, a manifold and Scanner 2000 steam mass flow transmitter which can output and display mass flow rates and totals.
The Compact Stem reduces both the time and cost of installation of the ILVA as assembly is limited to ten bolts. The Gilflo ILVA flowmeter range is engineered with a specially profiled cone that helps to reshape and flatten the flow stream profile just before the measurement point. Therefore, long straight runs are not needed. The ultra-compact wafer design means that its installed length is much shorter than almost any other technology, so it can be installed close to pipe bends, valves or other components that would prevent other types of flowmeters being fitted. The unit can even be installed into pipelines that were never designed to accept a flowmeter.
Due to its profiled cone and spring, the Gilflo ILVA is able to measure from full flow down to very low flowrates allowing for accurate and repeatable measurement over a wide flow range turndown of 100:1.
Contact your local Spirax Sarco representative to assist you with sizing and specifying the most suitable flowmeter for your application.
###
About Spirax Sarco, Inc.
Spirax Sarco is the world leader in steam system management. The Company provides a broad range of fluid control products, engineered packages, systems expertise and site services for its diverse range of over 100,000 industrial and institutional customers. The Company helps its customers to optimize production capacity, reduce energy costs and emissions, improve product quality and enhance the safety of their operations. Spirax Sarco has strategically located manufacturing plants around the world and employs approximately 4,700 people, of whom around 1,300 are direct sales and service engineers. Further information can be found at http://www.spiraxsarco.com/us.