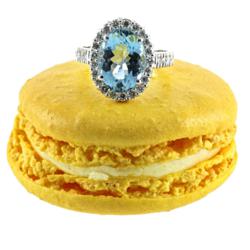 (PRWEB UK) 23 April 2013
Finding an engagement ring that compliments your personal style can be a difficult task. Whilst classic and beautiful, colourless diamonds are not every girl's best friend. Sapphires and Rubies offer primary colour options, but may not satisfy those seeking something 'a little bit different.'
With this in mind, Hatton Garden based gemstone specialist and jeweller Holts have created a colourful collection of exquisite engagement rings, centred on an array of under-the-radar precious gems. Each gem has been selected with durability and hardness in mind, to ensure they stand the test of time.
Leading the Engage with Colour Collection is one of the gemstone world's best kept secrets: the Spinel. Naturally occurring in a range of colours from beautiful subtle blues to vibrant pinks and reds and sparkling purples, with a high lustre to boot, they offer a colourful alternative.
The range also features Aquamarines, coloured Sapphires and Garnets in delectable hues ranging from the prettiest of peaches through to oceanic blues and lustrous greens.
The Engage with Colour Collection is available online at http://www.holtsgems.com & in store, prices start at £740 and range to over £3,000.
Holts Gems are based in Hatton Garden, specialising in bespoke jewellery in London. Holts are experts in creating unique jewellery pieces for any occasion.