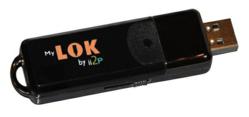 Identity theft was the number one complaint to the FTC in 2012
Southlake, TX (PRWEB) April 18, 2013
Identity theft was the number one complaint to the FTC in 2012. With hacking threats posed every day by stolen passwords, both individuals and organizations need a solution to securely store, manage and safeguard sensitive passwords, data and files. Weak passwords compromise business and personal data. As these security threats become more numerous and more sophisticated, MyLOK can reduce these risks. For a demo of MyLOK, watch HSN TV on Saturday, April 20th. Please check HSN TVs program guide on http://www.hsn.com for airtimes.
MyLOK Key Features:

Random password generator can create a different, complex password for every online account
Stores more than 250 IDs and passwords accessible with one master password
Virtual keyboard to thwart malicious software that records keystrokes
Ability to create an encrypted backup
Identities section can save shipping and credit card information for secure online shopping
24x7 support via phone, chat, video tutorials and articles
4GB of flash storage
About MyLOK
MyLOK is a turnkey, secure smart chip-based password management solution that provides two-factor authentication for access to password-protected accounts. Using a master password, MyLOK securely stores and retrieves credentials for more than 250 passwords and IDs for personal or business intranet and internet accounts. MyLOK can auto-generate random, strong passwords and auto-populate those credentials at login. MyLOK is designed to support individuals, small businesses, and enterprise corporations. For more information about MyLOK, visit: http://www.mylok.com.
About ii2P, LLC
Based in Dallas, Texas, ii2P is a leading provider of help desk productivity optimization and secure password management solutions, products and services. ii2P's products and services improve password management and identity management, dramatically reduce IT support and help desk costs and greatly improve end user satisfaction. ii2P solutions are scalable and affordable for consumers, small companies or large enterprises across all verticals. For more information visit: http://www.ii2p.com or call 1 (888) 892-3460.
About WYNIT Distribution, LLC:
WYNIT Distribution, LLC is a leading national distributor of products from the top national brands in the consumer electronics, photo, wide format printing, security and outdoor leisure and adventure industries. Based in North Syracuse, NY the company serves a wide range of customers ranging from large national retailers to independent resellers through dedicated business units and strategically located distribution facilities in Memphis, TN and Reno, NV. Founded in 1987 WYNIT Distribution, LLC's mission is to improve the competitive position of its customers and suppliers. For more information, call WYNIT at 1 (800) GO-WYNIT or visit http://www.wynit.com.