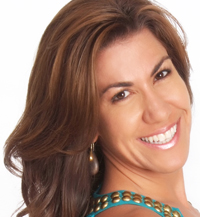 I've figured it all out AND I'm laying it out for you so you can easily duplicate my success.
San Diego, CA (PRWEB) April 18, 2013
It's no big secret: speaking is one of the most effective marketing tools around. So why do so many heart-centered entrepreneurs, coaches, trainers and experts leave thousands on the table when they speak at an event? Why do so many passionate people speak their hearts out, but sell close to nothing when they're done? In her 3-day event, Speak to Sell Live, The Queen of Sales Conversion Lisa Sasevich reveals specific tools and strategies these entrepreneurs can use to speak – and sell – more effectively.
"I've figured it all out and I'm laying it out for you so you can easily duplicate my success," Sasevich said. "Creating an authentic and powerful Signature Talk was one of the keys to my having a multi-million-dollar year last year, from speaking on stages and teleseminars. That's why I'm ready to walk you through the same process that works so successfully for me, over and over."
Sasevich designed this training to help entrepreneurs authentically increase their back-of-the-room sales, add speaking to their marketing mix, and create a line of excited customers at their back table, ready to purchase.
Heart-centered entrepreneurs who enroll in this 3-day live event learn how to:

Implement the secret to telling powerful stories from the stage
Easily turn one gig into many, which make an entrepreneur's efforts to get booked so much easier
Use the exact language and structure Sasevich uses to convert 100% of exactly the right people into paying clients, on the spot
Maximize their speaking efforts beyond making money and gaining clients (many speakers miss this and leave thousands of dollars behind)
And more!
"I will take you by the hand and personally walk you through creating a Signature Talk that effortlessly sells your core products and services - without you feeling 'salesy'," Sasevich said.
For more information about this event, visit: http://www.lisasasevich.com/goldmine1
Recently honored as one of America's Top Women Mentoring Leaders by WoW magazine, Lisa Sasevich, "The Queen of Sales Conversion," teaches experts who are making a difference how to get their message out and enjoy massive results, without being "sales-y."
Recognized sales expert by Success Magazine, and as one of 2012's fastest growing independently owned companies by Inc. Magazine, Lisa delivers high-impact sales-closing strategies for turbo-charging entrepreneurs and small business owners to great profits. According to best-selling author Brian Tracy, "Lisa Sasevich is one of the greatest discoveries in America today!"
After 25 years of winning top sales awards and training senior executives at companies like Pfizer and Hewlett-Packard, she left corporate America and put her skills to test as an entrepreneur. And in just a few short years, Lisa created a multi-million-dollar home-based business with 2 toddlers in tow. Lisa is the undisputed expert on how to make BIG money doing what you love.