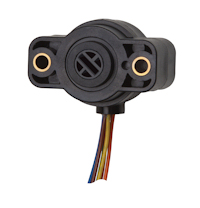 Goleta, CA (PRWEB) April 19, 2013
BEI Sensors announces expanded input/output electrical options and a new IP69K rating on the highly configurable 9960 series. With the new electrical options, the 9960 can communicate with a wider range of controllers and is now capable of accepting a wide range of input voltages. Validated to key aspects of ISO-7637-2 our 9360 Series is also compatible with the harsh transients found in vehicle battery system. This rotary Hall effect position sensor is now available with 9-30 VDC in/4-20mA current out and 15-30 VDC in/0-10 VDC out. In addition, the 9960 now carries an IP69K rating for high-pressure, high-temperature wash-down applications. This allows the 9960 to operate in an extensive variety of extremely wet applications and is still dust tight for dirty and dusty environments.
The 9960 series is available in numerous standard configurations with fast, one week delivery for small quantities. With 360 degree turn capability, the 9960 can be used over a large range of rotary motion making it extremely versatile. Utilizing non-contacting Hall effect technology makes the 9960 an exceptionally rugged and reliable rotary motion control sensor. The 9960 is ideal for a variety of applications in harsh environments, including steering and pedal positioning for construction, agriculture and mining vehicles, marine steering and speed control, wheel and throttle position for material handling, and valve position for process control.
For more information including data sheet and user guide, visit http://www.beisensors.com/9960