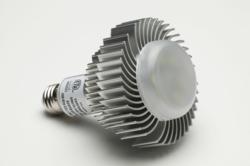 A recent U.S. Department of Energy study found that LED lamps have a significantly lower environmental impact than incandescent lights.
Lenexa, KS (PRWEB) April 22, 2013
Don't wait until your lights go dark to find your business needs to upgrade its lighting technology. With incandescent lighting slowly phasing out, Firefly LED lights provide a more efficient alternative. Worldwide Energy now offers the light-emitting diode (LED) lamps in the Kansas City area.
Ideal for lighting retrofits, Firefly LED products feature a high quality, patented technology that can be modified to unique specifications. It allows a configuration of beam angles, color temperature, light output, and total intensity to match the look and feel for most spaces.
A recent U.S. Department of Energy study* found that LED lamps have a significantly lower environmental impact than incandescent lights. Compared to incandescent, LED lamps provide a better light, substantial energy savings, and a longer life.
The Firefly lights provide seven different native LED white light colors by adding tinted lenses. Each light is American-made, and is UL listed and Energy Star compliant.
Last year, a Department of Energy mandate prohibited the import or manufacture of magnetic T12 ballasts and lamps. Businesses who procrastinate upgrading to high efficiency lighting will find the obsolete T12 lamps harder to find and more expensive.
"Right now inventories are still available, but as they deplete, replacement lamps will become extinct in the U.S. market faster than many anticipate," said Gaylen Davenport of Worldwide Energy.
"Businesses that act now can enjoy utility rebates and government incentives to supplement a significant portion of their upgrade cost," Davenport added. "In addition, these companies see immediate utility cost savings with their new lighting system."
Experts advise companies planning to update their T12 lighting to consult a reputable company for help in selecting the correct technology for their situation.
*Life-Cycle Assessment of Energy and Environmental Impacts of LED Lighting Products, Department of Energy, June 2012.
Worldwide Energy, Inc. (http://www.worldwideenergy.com) provides complete turnkey implementation of all types of energy efficient upgrades including lighting retrofits. As the single point of responsibility, we ensure our clients' complete satisfaction. This includes the ability to design and certify efficiency projects to meet the DOE's requirements and provide the comprehensive tax package to secure the client's tax deduction along with procuring all available utility incentives.