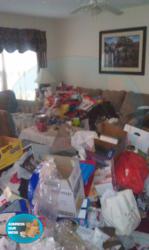 "There are times when authorities may get involved. (However) it is not necessary to make the hoarder feel like they have committed a crime."
Mount Laurel, New Jersey (PRWEB) April 19, 2013
For hoarders, admitting that there is an issue with the environment in which they live is so difficult and overwhelming that most turn to a life of seclusion before confronting the problem. It has been common practice to take a gentle approach at persuading a hoarder to trust in the process of clearing out their hoards while seeking professional help and council on how to live a healthier lifestyle. With so many recent reports of hoarders meeting their ultimate demise, mummified amidst the garbage and rubble they seem shackled to, a Northborough, Massachusetts Senior Center is revamping their initiative to give hoarders the gentle care they need.
The Metro West Daily News recently reported that a Metropolitan Boston Housing Partnership Case Management Specialist named Jesse Edsell-Vetter delivered a presentation on April 5, 2013 at a conference on hoarding which called his entire community to action. "People (will) die if we don't do something," stressed Mr. Edsell-Vetter. Metro Boston experts on hoarding Address Our Mess, with satellite offices in the Massachusetts area, could not agree more.
Address Our Mess has received reports all over its footprint, primarily on the East Coast, that people are being found dead deep within their hoarded homes. Fathers, mothers, sisters, brothers and friends – who have lost touch with their loved ones – are being discovered, mummified beneath mounds of papers, clothing, garbage and collectibles. Evidence shows that most of the dead had lived without water and heat for months, and sometimes years, before meeting their untimely end.
Direct involvement with a loved one who hoards seems to be generating success within the hoarding community. While it is not recommended to simply barge into a person's home without invitation, local officials all along the East Coast are meeting with known hoarders in an attempt to open their eyes to the dangerous conditions in which they live.
In one instance, a Massachusetts Code Enforcement Officer let herself into the home of a suspected hoarder in an attempt to talk some sense into the socially secluded homeowner. For nearly three years, the elderly man was living without gas or water while suffering from terminal bone cancer.
Because the enforcement officer took the risk and offered the man some much needed help and advice, she was able to reconnect him with his estranged children and grandchildren before succumbing to cancer earlier this year. His family, and the officer, took solace in the fact that he spend his remaining time in a happier, healthier environment than the one he was found in months before his death.
Due to the sensitive nature of the hoarding condition, and the frail state in which a person may be living, it is important to remember some basic tips when approaching a hoarder. "Don't treat hoarders like criminals," explains Josh Rafter, a hoarding specialist with Address Our Mess quoting from the company's comprehensive list of Clutter and Hoarding Clean Up Do's and Don'ts. "There are times when authorities may get involved. (However) it is not necessary to make the hoarder feel like they have committed a crime."
Address Our Mess reminds families, friends and helpers to give hoarders a reasonable amount of time to adapt to the major change in their life while lending a nurturing, supportive hand. The simplest difference in approach could ultimately be a matter of life or death when helping a hoarder. Once a decision is made to take the first step in cleaning the clutter that has imprisoned them for so long, contacting a professional clutter and hoarding cleaning service is highly advised to ensure a safe and healthy return to every day living.