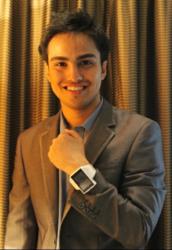 Technology should reduce human effort - Siddhant Vats
(PRWEB) April 19, 2013
Siddhant Vats, a techno-enthusiast and a brilliant student is doing his final year of school in London. Siddhant Vats has been credited to have made the world's first Android technology watch along with his three friends. The Co-Founders of the company Androidly Systems are Apurva Sukant, Siddhant Vats, Ankit Pradhan and Pavneet Puri.
Androidly is the latest Android smartwatch which aims to improve on existing models, like Pebble or Sony's Smartwatch, by including dedicated hardware to make calls, take pictures and run Android apps directly from your wrist. It is the world's first full featured Android watch. Devices like Pebble link to your smartphone via Bluetooth and transfer information from phone to wrist, whereas Androidly does everything itself, making it one of the world's smallest fully featured Android devices.
Quite capable of multi-tasking, Androidly is the next gen device for people who don't like to carry bulky smartphones or tablets. The high definition 2 inch screen of this watch is optimized for a great user experience honed by the powerful processor. Loaded with apps like Quick Office, Facebook, Gmail, Twitter, Google Maps, Team Viewer and more, Androidly seeks to give a vision to what futuristic gizmos and gadgets are going to be like.
Specifications of Androidly:
416 MHz Processor;
256MB RAM;
8 GB of internal storage and runs an optimized but unspecified version of Android. The watch also features a 2 inch display;
a camera;
WiFi connectivity;
Bluetooth to connect to other wireless devices;
and Sim card slot.
There are other such products in the market, but they mostly sync with a smartphone and are not phones in themselves. They have ported Android on to a much smaller board and built a wearable phone, said the developers of Androidly.
A patent is nowhere on the team's mind. They support open source technology, the team of Androidly said in an interview.
Apart from being an Android Geek, Siddhant Vats is also the co-founder of Falak, an NGO which works with the under-privileged children and other issues to bridge the social gap in the society.
The most interesting part of this company is that one of the co-founders of Androidly Siddhant Vats is just 17 years old and the other co-founder Apurva Sukant, is a law graduate. This rare blend of enthusiasts are setting a new trend in the world, that anything is possible if done correctly and substituted by hardwork.
Siddhant Vats and Apurva Sukant are setting a new trend in the market. The world has to wait and see if Androidly is the next solution to the smartphones.
Website of Androidly - http://www.droid.ly
Androidly..Evolve Today.