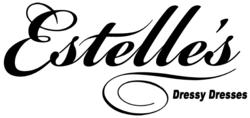 We are honored to be able to partner with Jovani and host this fashion show
Bohemia, NY (PRWEB) April 19, 2013
On April 19, leading Long Island prom dresses retailer Estelle's Dressy Dresses teams up with top prom dress designer Jovani for a fashion show to benefit the American Heart Association.
On Saturday April 27th, Estelle's will roll out the red carpet and host a fashion show featuring Jovani dresses. The event will take place at Estelle's, located at 1600 Broadhollow Road, Farmingdale, NY 11735 from 11 am to 5 pm. Giveaways will start at 12 pm and will continue every hour until 5 pm, when one lucky winner will receive a Jovani dress of their choice. Online beauty supplier NewVo Beauty will also be raffling off 5 baskets containing the latest cosmetics and beauty products. Those interested in entering the drawings must be present at the event and will need to submit a ticket provided to them while entering the store. Unique will be doing hair and makeup, it's looking to be a great night.
"We are honored to be able to partner with Jovani and host this fashion show," says Estelle Schlossberg, owner of Estelle's. "The Jovani name is well known in the retail industry and it will be great to see their latest styles on our runway."
In addition to hosting the Jovani red carpet event, Estelle's will also be donating a portion of the proceeds from all Jovani dresses purchased in the store from April 22nd through April 29th to the American Heart Association.
The American Heart Association is a non-profit organization. According to their website, their mission is "to build healthier lives, free of cardiovascular diseases and stroke. That single purpose drives all we do. The need for our work is beyond question."
"When we agreed to host the Jovani event we knew immediately to plan for a large turnout," says Schlossberg. "I work closely with the American Heart Association, so I thought what better way to raise money for a great cause than to tie it into the Jovani red carpet event? I am beyond thrilled that with the help of my customers and Jovani, we will be able to turn this event into something that will benefit heart research."
Estelle's Dressy Dresses is the world's largest dress shop, featuring over 20,000 quality prom, wedding, cocktail, kids and plus size dresses at affordable prices. Estelle's is committed to helping you find the perfect dress for any occasion in its 37,000 square foot megastore. In 2012, Estelle's was voted the "Best Women's Wedding Evening Wear" destination on Long Island of 2012 by the Long Island Press. As a leading dress shop, Estelle's strives to help you look your best at the most important times in your life.
#####