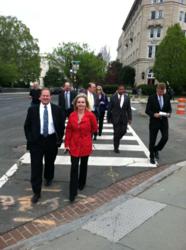 Tysons Corner, VA (PRWEB) April 19, 2013
Eight VHB operatives (Chris Brockett, Betty Gillen, Kathy Harbold, Richard Johnson, Susie Kitchin, Chris Mortensen, John Saunders and Robert Wright) were among the 1,000 registered bankers in attendance at the U.S. Capitol, including almost 100 attendees from Virginia alone. The summit featured a number of Legislators who discussed regulations, tax exemptions, economic recovery and more. After the general session and lunch, our bank representatives boarded a shuttle to Capitol Hill where they then had a chance to meet with Federal Bank Regulators for further conversation and questions.
Virginia Banker's Association (VBA) - http://www.vabankers.org/ is comprised of commercial banks and thrifts with offices in Virginia. With 64,363 employees, VBA member banks represent institutions of all sizes, from the smallest community bank to the largest nationwide bank with a presence in the Commonwealth. The objective of the VBA's Government Relations Program is to carry forward a unified and effective message to state and federal lawmakers and regulators on legislative and regulatory initiatives that may impact the franchise value of member banks. Positions on issues are decided and refined as circumstances dictate.
Virginia Heritage Bank, headquartered in Tysons Corner, with total assets of $792 million, serves Northern Virginia and surrounding communities with branches in Chantilly, Dulles Town Center, Fairfax, Gainesville, and Tysons Corner. VHB is a full service bank providing an array of retail and commercial financial services.
David P. Summers
703-277-2200
http://www.vhbank.com
http://www.vhbmortgage.com
OTCBB: VGBK
Member FDIC