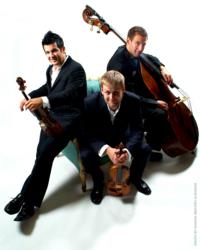 Baltimore, MD (PRWEB) April 20, 2013
Baltimore Symphony Orchestra (BSO) Music Director Marin Alsop leads the BSO and the string ensemble Time for Three in Jennifer Higdon's Concerto 4-3 on Thursday, May 2nd at 8 p.m. at the Music Center at Strathmore and Saturday, May 4th at 8 p.m. at the Joseph Meyerhoff Symphony Hall. The performance also features John Adam's Shaker Loops and the 1947 version of Prokofiev's Symphony No. 4. Please see below for complete program details.
Prolific composer Jennifer Higdon's Concerto 4-3 was written specifically for the talented musicians of Time for Three, who were also Higdon's students at Philadelphia's Curtis Institute of Music. The ensemble, known for "breaking the rules and defying expectations," draws upon bluegrass, jazz, rock, folk and classical themes to create a truly unique sound, bursting with energy. Time for Three's eclectic style and rich bluegrass flavor complement Higdon's own roots in Mountain Music, which she cultivated growing up in East Tennessee.
Concerto 4-3 has three movements, "The Shallows", "Little River", and "Roaring Smokies", which pay homage to the majestic beauty and bluegrass heritage of East Tennessee, and to the virtuosity of the Time for Three musicians. The piece is grounded in classical influence, but its emphasis on off-beats, open strings, and slides lends twenty-first century musical complexity.
Also on the program is John Adams' minimalist masterpiece Shaker Loops. Adams' popular piece draws its name and inspiration from the musical term 'to shake' in which the bow dances across the strings in fast, tight and rhythmic motions. The title also refers to the religious sect whom outsiders call "Shakers" because they appear to be shaking during their religious experiences.
The performance will also feature Prokofiev's Fourth Symphony, a piece that was initially met with criticism during its 1930 premiere, but grew into a colorful and compelling work after Prokofiev returned to it nearly two decades later. Prokofiev completely reworked his original composition, adding sixteen minutes of music and enriching the orchestration to match the grandeur of his popular Fifth and Sixth Symphonies. The final creation, which will be performed on this program, was a symphony of heroic scale and force.