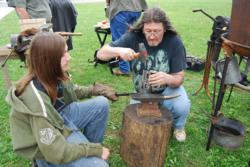 "This is the most fun I have each year at an Art Festival." - Betty Bullen, Artist
Maynardville, TN (PRWEB) April 29, 2013
The 3rd annual Art on Main Festival will be held June 1, 2013. This year's festival will include well-known artists from Union County and the surrounding area plus local crafts. Artisans will show and demonstrate their work including woven baskets, gourd art, oil paintings, jewelry, Intarsia, quilts, pottery and scented soy candles.
Musical and comedic entertainers will perform throughout the day. Local talent will set the stage and Phil Campbell of Hee-Haw fame (son of the late Archie Campbell) will bring his music and comedy to the event. http://www.comediansusa.com/Phil-Campbell
Vendors will provide foods with local flavor such as Bar-B-Q and grilled specialties along with drinks and snacks.
A "kid-size" train will trek through the downtown streets to provide a fun ride for the kiddies and a short respite for parents to browse the booths.
Student art will be displayed and judged.
Art on Main is the theme for the 2013 annual Union County Art in the Park Festival. The festival is the brain child of artists in Union County who desired a specific event that would bring artisans together to demonstrate, display and sell their work and bring the community together to enjoy the talent and heritage of Union County art. The beauty of Norris Lake and the simple living of the surrounding area have drawn artists and their families who have chosen Union County for vacation, retirement and permanent homes.
Union county is already well known as the home of music greats such as Chet Atkins, Kenny Chesney, Roy Acuff, Lois Johnson and Carl Smith. With a flair for the arts being reborn in native Union Countians as well as newcomers, there is a growing artist's movement that has already spread notoriety nationwide.
Find more info at:
http://www.facebook.com/UCArtsCoop and:
http://www.tennesseerivervalleygeotourism.org/content_detail.php?uid=ten563305C60005ADA5F