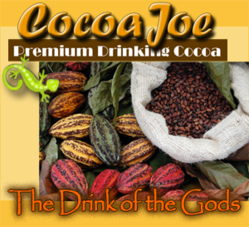 "Our drinking cocoa is 100% naturally processed to help retain the healthy benefits found in the cocoa bean." - Tom Schumacher, CocoaJoe RoastMaster
Denver, CO (PRWEB) April 22, 2013
Theobromine is a natural stimulant found in cocoa beans that offers a raised level of focus and energy. Unlike its jittery cousin – caffeine, Theobromine has a slower, mellower onset and doesn't upset the stomach. Studies have found that it also increases the body's metabolism, thus leading to higher amounts of fat being burned... naturally! Dr. Oz recently featured brewed cocoa as one of the top four ways to burn fat faster, saying, "This is a really cool idea. I think this is something really worth trying. Here's what I love about it. It's why it can help you burn fat faster. It has a natural stimulant, not caffeine, called Theobromine that can boost your metabolism. It's very safe. It also has a fat blocker. It helps get rid of the fat in your body by blocking an enzyme you need to digest fat, so you never absorb the fat into your body." See the Dr. Oz website here.
By using a proprietary roasting and grinding method CocoaJoe drinking cocoa retains most of the natural, healthy benefits of a raw cocoa bean. These benefits include high antioxidants, minerals, vitamins and flavanols. Further, because cocoa beans are actually the 'healthy' part of dark chocolate, drinking cocoa also helps to promote the brain chemicals Anandamide – a neurotransmitter responsible for the feelings of 'bliss', Phenethylamine or PEA – the love molecule, Serotonin – the neurotransmitter that acts as a stress defense shield by making you 'feel good' and Dopamine – the neurotransmitter that boosts motivation and pleasure. In fact, the phytochemical analysis of the cocoa bean reveals that raw or naturally processed drinking cocoa is perhaps the most chemically complex food on earth.
Tom Schumacher, Owner and RoastMaster at CocoaJoe, states, "The scientific name for cocoa beans – Theobroma Cacao – literally translates to 'The Food of the Gods.' We use them to produce what we call 'The Drink of the Gods.' Our drinking cocoa is 100% naturally processed to help retain the healthy benefits found in the cocoa bean"
Drinking Cocoa, though new to the market, is easy to brew. It doesn't require any special knowledge or skills to create a wonderfully healthy and tasty beverage. Simply by brewing the roasted, ground cocoa beans in a kettle – a method the company calls 'The Mayan Method' (which requires heat, water, a kettle and CocoaJoe – some might call this 'Cowboy Coffee') and then running through a French press or simple kitchen strainer, it's easy to add a healthy, great-tasting beverage to a health-conscious diet.
About CocoaJoe, LLC
CocoaJoe is a Denver-based company that produces hand-crafted, artisanal batches of 100% natural and organic premium brewing cocoa. The company is dedicated to educating the world on the health benefits and great taste of this new, yet ancient, beverage. CocoaJoe endeavors to improve the world one cup at a time. The company is committed to purchasing organic cocoa beans from Fair Trade and ethically traded and sustained farmers. To learn more about CocoaJoe or to order their premium, organic brewing cocoa, visit http://www.drinkcocoajoe.com.