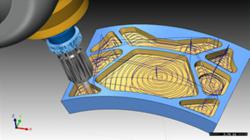 The overall goal with the CAD/CAM software is to improve workflow efficiency and add the right automation
Clearwater, FL (PRWEB) April 19, 2013
CNC Software pioneer BobCAD-CAM announced the release of CAD/CAM programming technology that adds efficiency automation into the machining phase of manufacturing. Their CAD/CAM software addresses multiple aspects of design and manufacturing starting with importing CAD design files from a designer to the CNC shop. Mr. Haynes from 3C Innovation comments on the software by saying, "I use BobCAD primarily to design and machine the pattern work that is then used in the last wax casting process in a local foundry. Using BobCAD has increased my capability for accurately producing complex 3D parts ten-fold.I am now working in full 3D."
The CAD/CAM software then allows the programmer to apply 2, 3, 4 or full 5 Axis toolpaths for CNC cutting to the part in a fully associative CAM Tree. The CAM Tree is associative so that if design changes occur then the toolpaths for machining can be updated so that the machining strategies within the software do not have to be recreated. New machining strategies include High Speed Adaptive Roughing. The high speed toolpaths allow the machine speeds and feeds to be increased due to the circular cutting motion and constant tool engagement. This new toolpath machining strategy is proving to reduce cycle times.
Mr Anderson at Ballard Mechanical Design, LLC. in Renton, WA agreed by commenting, "I use BobCAD for prototype and production parts on several 3-axis mills. I looked at various CAM software packages before discovering BobCAD. Now I can have the new part for my customer programmed and in the mill in about 15 min." The CAD/CAM software includes full NC Code or G-Code generating functionality that is based off of the specified CNC Machine tools controller. The post processing capabilities are user customizable allowing the operator to either load a pre-existing post or easily configure one on their end. In addition to these new features is the machine simulation which allows the operator to simulate the machine toolpath cutting the part before the program is sent to the machine. "The nice thing about the new simulation is that it helps the machinist catch things that may require changes in the machining strategies as well as the fact that the new PRO level software allows the operator to use their actual machines kinematics to simulate the full machine in action," commented Chris Corbell, who is the VP Marketing at BobCAD-CAM. "The overall goal with the CAD/CAM software is to improve workflow efficiency and add the right automation that every shop needs in their cnc machining process in order for them to remain competitive and profitable," Corbell added.
For more information on how to increase the workflow efficiency in cnc machining at your shop, contact BobCAD-CAM directly at 877-262-2231. You can visit their company online at http://www.bobcad.com for a free CAD/CAM demo.